Movie: Filth
Movie rating: 🎥🎥🎥🎥🎥 (out of 5)
"Filth" lets you step in to the mind of a corrupt, cocaine-snorting, pill-popping Edinburgh cop, and experience first-hand what untreated bipolar disorder looks like. Filled with dark realism and fantasy-style elements, the main character spends most of the movie hallucinating shocking visions of animal heads, the ghost of a dead child, and giant tapeworm monsters. These are just a few of the drug-fueled and mentally ill hallucinations that get progressively more frequent as he falls deeper in to addiction and his disorder worsens.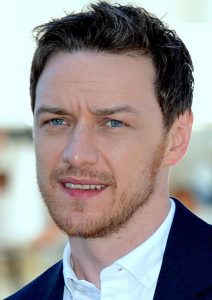 Detective Sergeant Bruce Robertson (James McAvoy) is a despicable, manipulative, bastard of a police officer hoping for a promotion to detective inspector and is prepared to do whatever he feels necessary to get the position. He lies, cheats, drinks and sleeps his way to the top, finding manipulative ways to take down the competition as he goes. A coke-crazed, sadomasochist sex fiend, Bruce is prone to fits of profane abuse, constantly bullying his coworkers and trying to drag his innocent-and-loveable friend Bladesey into his world of drugs, sex and misery. However, after a messy split with his wife, his sanity quickly unravels, and he starts to lose his grasp on reality.
"Filth" is a dark comedy-drama based on the 1998 novel of the same name by esteemed Scottish writer Irvine Welsh (Trainspotting). Having been a fan of Welsh's work since I was a teen, I was thrilled to see another of his books was being made into a film and had high expectations for the movie. Welsh has a relatively unique style to his storytelling, similar to that of Chuck Palahniuk (Fight Club, Choke); generally dark, twisted dramas mixed with black comedy-style humor.
"Filth" was considered "un-filmable" for years, mainly due to the book's essential feature: a tapeworm that grows inside of Bruce, sporadically interrupting the storyline to pose existential questions and act as Bruce's conscience. Although it sounds somewhat sinister, these are the types of elements that make Welsh's stories so unforgettable. One of the most memorable scenes in "Trainspotting," another of Welsh's incredibly popular stories (adapted to film in 1996), is the scene with the dead baby crawling across the ceiling. Welsh's writing tends explore the darkest recesses of human endurance, capability and resilience; both stories feature dark storylines based on real-life issues like drug abuse, mental illness and death, among other things.
The relatively unknown director Jon S. Baird (best known for the TV miniseries "Babylon" and Associate Producer for the movie "Green Street Hooligans") found a way to take a book that was considered nearly impossible to adapt to live-action screen and succeeded in reinventing the material. Baird adopts an alternative means of peering in to Bruce's damaged psyche; he finds subtle ways to hint at his looming insanity and weaves together an insane plot into an incredibly dark and powerful movie. "Filth" is a film reminiscent of "A Clockwork Orange," with the same dark undertones and twisted main character, but has the feel of "Fight Club," with the main characters' back and forth between what's real and what isn't. Mix those two films together and throw in a Scottish junkie cop, and you have "Filth."
"Filth" masterfully gives viewers a chance to step in to the mind of someone with bipolar disorder and see what it feels like to be on the verge of a mental break. Having been diagnosed with bipolar myself, this movie is all the more relatable, especially regarding the highs and lows of Bruce's disorder. The film also does an excellent job of portraying the negative effects that drinking and drugs have on the mentally ill, creating a tornado of chaos that makes everything far worse off.
Bruce's violent mood swings and attitude are a very serious, untreated form of bipolar, but the idea is the same for most forms. The scenes of Bruce crying and laughing and shouting at whoever is closest to him all within a span of seconds are very real to many of us with the same disorder, especially when under a lot of stress. Things get confusing, it's hard to tell up from down, the world feels backwards, and it feels like you have no control over what is going on. I have personally never seen my friends and loved ones turn in to giant, terrifying farm animals, but I've had my own moments of losing control and wondering what's real and what isn't. It affects our lives in significant ways: our relationships, our jobs, our will to live a normal, comfortable life. It's much easier to just give in and find ways to self-medicate than to face the issues head on and admit that you need help.
McAvoy is brilliant in this film. I would faithfully say, without a doubt, this is one of the best films of his career. McAvoy excels at playing Bruce in all his twisted, psychotic, mentally instable glory. McAvoy gives viewers a glimpse at what a constant battle mental illness is, and finds delicate ways of sharing those emotional moments with viewers; every subtle glimpse at the camera, every maniacal laughing sob during a mental breakdown, and every terrified relapse between reality and hallucination. Each of these moments make the film the incredible masterpiece that it is, and McAvoy is unquestionably the heart of it all. Bruce's eventual "crash and burn" at the end of the film is so poignant and emotional and so incredibly dark, and I can't think of anybody else who could have done such a masterful and memorable performance. You will never look at McAvoy the same again, especially in roles like the sweet and loving Professor X in the X-Men films.
If fans of the movie Split enjoyed James McAvoy's delightfully twisted role as Kevin, an abuse victim who has slipped into a deep state of dissociative identity disorder with 23 distinct personalities, then they need to take a step back to 2013 and watch Filth. You won't be disappointed.