It seems like Jeffree Star twitter is causing him to lose more friends in the beauty industry every day now.
Not only has the Beauty Guru publicly ended his friendship with Jacklyn Hill and Nikita Dragun on Twitter, but his latest tweet confirms that his relationship with former BFF's Laura Lee and Manny Mua is on the rocks. But should we be surprised that Jeffree's rude and privileged attitude resulted in him losing more friends? No.
Tons of fans are attacking Manny Mua and Laura Lee for not publicly wishing Jeffree Star a happy birthday yesterday on Nov. 15. Fans specifically called out Manny Mua for wishing a fan a happy birthday on Twitter before Jeffree Star:
https://twitter.com/MannyMua733?ref_src=twsrc%5Egoogle%7Ctwcamp%5Eserp%7Ctwgr%5Eauthor
Fans continued to add flame to the fire by calling out Manny's subtle shade towards Jeffree: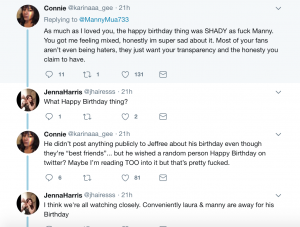 Jeffree Star fans took to Twitter to investigate the situation:

Jeffree Star responded to his fans confirming that his relationship with Manny Mua was strained:

Laura Lee got dragged into the drama when her fans misread her tweet about an upcoming collab with a charity for proof that she disliked another YouTuber, Zoella or that her relationship with Jeffree was over. Little to say, Laura was pissed: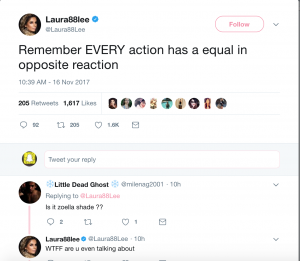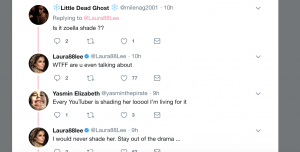 Source: https://twitter.com/laura88lee?lang=en
Laura claps back at fans who insisted to know the truth. A little tip for next time Laura: Don't feed the Trolls!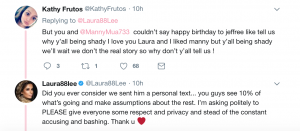 Laura Lee becomes overwhelmed with the misconceptions about her tweet and clears up the meaning behind her broad statement:

Manny Mua decides to clear up the false rumors linking his Instagram post with Jacklyn Hill and Laura Lee with his relationship with Jeffree Star: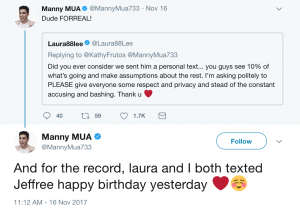 It's clear that Manny and Laura want privacy to properly deal with their issues with Jeffree. However, this is the price that comes with associating yourself with a well-known trouble maker.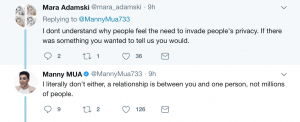 It's annoying how beauty guru's act surprised when people are invested in their personal friendships.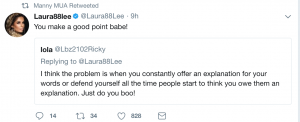 Laura Lee and Manny Mua knew that entering a public friendship with Jeffree Star would be controversial due to his racist and discriminatory comments made in the past. Even after his public apology, Jeffree Star didn't stop inserting himself into drama and continued to post controversial comments on Instagram and Twitter. Do you think that Jeffree Star deserves to have any friends considering his racist past and bad reputation with other beauty influencers?