On a Friday night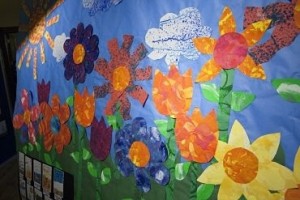 in early fall, visitors to the Arts@Large Gallery near Walker's Point are experiencing what happens when students create a garden through art. Designs range from large paper flowers to mosaics, paintings and photography.
Perhaps the largest piece in the gallery is a paper collage painting of a garden entitled, A Flower Travels Through Life. It has a bright orange and yellow sun in the upper left corner, a blue sky, and green grass with yellow, orange, red and purple flowers growing upward. It looks like a piece any typical fifth grader would create. However, the creator of this piece, Sage Wismar, is not an average fifth grader.
"A cool and unique thing about me is I have cerebral palsy which makes some thing really challenging but that doesn't stop me from doing anything," said Sage.
Because of her disorder, she has to speak through a computer she controls via eye movement and touch screen.
"[Her cerebral palsy] hasn't stopped her from succeeding in life," said her father, Jim Wismar. "She's a bright and competent at-grade-level kid with a brilliant outlook and she's an inspiration to everyone she meets. She's my hero."
Sage, 11, goes to Bethesda Elementary School in Waukesha. The evening of the show, she was dressed in knee-high black boots, black shorts and a floral print blouse, topped off with a faux fur vest. Her long dirty blonde hair is pulled back into a ponytail.
She was asked to participate in the show, Growing Great Gardens, by the people at Arts@Large, an organization that promotes art education in Milwaukee area schools.
Funded by local philanthropists and organizations, Arts@Large serves around 20 K-8 and elementary schools and approximately 11,000 students by providing artist residencies, professional development, transportation and tickets to arts events, as well as materials and supplies.
Kim Abler, Art Curriculum Specialist with Milwaukee Public Schools, is the co-founder and co-director of Arts@Large. She created the organization with grants from the Department of Education. Abler started the program as a cultural partnership with the community.
"We're lucky enough to live in Milwaukee," she said. "We have such an amazing artist [community] and a lot of diversity in the city and that is something that could be replicated and built on."
Deep Cuts to Art and Music
In spite of such well-meaning programs, 85 K-8 and elementary schools have no budget for art this year, compared with last year when 56 K-8 and elementary schools in the district had no art budget.
Art, music, and physical education teachers, along with librarians, are often the first to face cuts after classroom aides. In MPS K-8 and elementary schools, 85 have no art, 83 have no music, and 52 schools have no art, music, or physical education positions.
Since 2004, MPS has lost 61 full-time arts educator positions. The cuts have been deep and swift: in 2001, all schools had a certified art and music teacher.
"The great thing about certificated art instruction," said Dr. Peter Blewett, the MPS Board of Directors vice president, "is these are people who have been sensitized to how to draw the lessons out in ways that will help the students not just play with the stuff, but become critical thinkers about it and engage in critical inquiry."
Blewett, who was elected to the board in 2001, has served as president of the Board of Directors in the past, and is an English professor at the University of Wisconsin-Milwaukee. He has been an outspoken advocate for art, theater, dance, and music education in Milwaukee Public Schools.
"I'm an English teacher and I'd be willing to throw math and reading out of the curriculum," he said. "All those subject that have kids just sit at a desk in favor of a total art based curriculum, based on theater, writing, music, and visual arts."
Many studies show a direct correlation between visual and performing art education and better brain development. A study from The Dana Foundation, an organization devoted to brain research, found that dancers have a greater ability for observational learning than non-dancers. The study suggests that exposing children early in their lives to dance may enhance that ability.
Art education also helps children learn problem-solving skills.
"When you look at the arts, any one of the arts, any of them, they all have one thing in common, that is you need to use materials in order to create something else," said Blewett. "With visual arts it's the world of physics and materials."
The Importance of the Arts
Collaboration is an important part of art education as well.
In Arts@Large, kids are encouraged to work with each other on their projects. Sage Wismar worked with three of her best friends to create her piece for the Growing Great Gardens show.
"They helped make choices and gave her choices so she could make decisions," said Lauren Rozinski, who is Sage's aide at school and describes herself as Sage's best friend. "[They] just helped her through painting the flowers and cutting them."
"And gluing," added Julie Rutkowski, her special education resource teacher.
"And designing where they wanted to be. A lot of choices," Rozinski said.
Sage had strong opinions about the various aspect of the piece.
Rutkowski explained, "Do you want this to be pink or purple? Should we use this type of brush or this sponge?"
Sage cannot speak, but she is able to communicate through signs and with her computer. For example, ask her a yes or no question and she'll respond "yes" by raising her arm or "no" by shaking her head. Give her two choices and she'll motion toward one she wants.
Through her computer, which is programmed with answers to certain questions, Sage is able to explain her inspiration for the project.
"My artwork is inspired by the art of Eric Carle," she said.
She loves the work of Carle, who is a popular children's author, and his book The Seed.
Gardening also has an impact on her work.
"Gardens are an important part of my life," she said.
"Sage loves gardening," said her father. "We have gardens at home and she is inspired by flowers."
Though Sage's favorite subjects in school are science and reading, art is very important for her development.
"[Art] is very motivating for her," explained Rutkowski. "She can do everything her peers can do, just in a different way. And I think being successful at something builds her confidence and then that carried over to the other curricular areas."
"Art is one of her favorite things because she doesn't have good use of her hands," said her father. "She's using that as occupational therapy to help her develop both her manual skills and her artistic expression."
Rutkowski believes that art, in conjunction with other subjects in school, is a good way for all children to express what they have learned.
"Students can showcase what they know in a visual way," she said. "It's different than just taking a paper and pencil desk and for someone like Sage she can demonstrate what she knows but in a visual artistic way."
A Community Affair
In addition to helping children develop teamwork skills, Arts @ Large encourages working with the community. In conjunction with Growing Great Gardens, one of the ways schools are encouraged to work and better the community is by starting community gardens on their property. The 53rd Street Elementary School, located in the Grasslyn Manor neighborhood in northwestern Milwaukee, was one of the first schools to establish a garden.
The artistic community gardenwas built and is maintained by 53rd Street School and Yeshiva School, a Jewish elementary school, along with other community organizations. The two schools had little contact before the garden was planted, despite being across the street from each other.
Darrell Garrett, the Communications Assistant with Arts@Large, was involved with the garden. He said the only contact the two schools had before planting the garden was the baseball field they share.
"This project brought a Jewish School and a Public School together," Garrett explained. "The day we were installing the gardens, tons of people from Yeshiva came over and were helping out." .
The garden, which is tucked in a corner where two wings of the building meet, is surrounded by a colorful fence. The fence posts are individually painted in vibrant primary colors. Flowers and plants are painted on each post in contrasting colors. The garden also has benches, each one built and painted by children of 53rd Street and Yeshiva schools. Each bench features a saying:
"Reduce, Reuse, Recycle."
"We are proud of our teachers, our education, our community."
The plant beds have ceramic pieces to denote the plot numbers. In the fall, squash, pumpkins, and eggplant grow. Leftover tomatoes are still on the branches from the summer months. Green and purple leaves, orange and yellow flowers provide even more vibrancy to the already bright setting.
Building the gardens allowed the children to learn how academic subjects are applicable outside of the classroom.
"When they made the raised garden beds, the kids were using mathematics, they were integrating science with that," said Abler. "Now they could've sat in a desk reading a book and trying to figure out those concepts. Instead we took them outside where they used tools and worked together. They could see the benefit of their work in the garden as it came to be fully planted and grow."
The garden also lets the kids see the importance of working together.
"The plots are adopted and maintained by community members around the school," said Garrett. [It helps] to build a sense of community and teach things like environmental education and healthy eating."
Garrett said he could tell community gardens are something that neighborhoods want.
"When we installed the garden, seventy to eighty percent of the volunteers were local people from the community," he said.
Keeping the Arts in Schools
Abler believes that in order for administrators at schools to see the impact of art education, they have to experience it in action.
"Part of what art does for kids is intangible," she said. "People who have experiences in the arts get it. If you've never had those experiences you may not really understand it."
MPS board member Blewett said he will continue to encourage the school board and state government to treat the arts as a vital part of the curriculum.
"The fact that not every child in this country gets the opportunity to engage seriously in the arts and languages is our greatest failure," Blewett said, "absolutely our greatest failure."