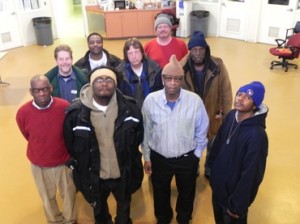 "We're only a paycheck away," said an amiable Edwin Shea. "Nobody has a nest egg anymore. It only takes two weeks. You lose your income, you lose your residence; you're homeless."
Somehow cheerful, Shea recounted his story in the Milwaukee Salvation Army Emergency Shelter where he was staying. Shea has been roaming the country for the last 12 years.
"I'm an eternal optimist," he said. "Life's too short. I've been stabbed, I've been hit in the head with a hammer, and I've been shot, in my lifetime. I'm the closest thing to a ghost you'll ever meet."
The Continuum of Care's 2011 Point in Time Survey estimated that there were nearly 1,500 homeless individuals in the Milwaukee area. 63% of interviewees were African American, and 30% between 41-50 years old.
Wanderlust
Shea, 47, fits into the statistics like a puzzle piece.
Shea is short, has jheri curls, and often breaks into a friendly gap-toothed smile. Born in North Carolina, his parents moved to New York when he was three months old. His father eventually sent him back to North Carolina to attend high school, fearing what growing up in New York might do to him. He met his future wife in high school, and they married at 18. They moved to New York soon after Shea enrolled at New York University. They also had their first of three children.
Shea graduated in 1987 with a degree in Acoustical Engineering and worked as a recording engineer at CBS Records for 13 years. He said that the lifestyle took everything away from him. By that he meant excessive drugs and partying.
"There was a point in my life when it became clear to me that I was not going to survive—I was gonna die…and I didn't want to die," he said. "So for the most part I had to walk away from everything that I knew. I wasn't going to able to go back into the business and stay sober."
To escape this fate, he ran to California and found work with a courier company called Johnny Air. For two years Shea traveled the world. But he said he would have enjoyed it much more if he could do it now.
"I was trying to find a way to die…I just didn't want to live," he said. "Those first two years of sobriety if you looked at me, you'd think I was the most strung out drug addict ever. I was so destroyed."
His courier work took him to Rome, Germany, Japan, and the Middle East. He was robbed in Beirut, Lebanon, and stabbed in Israel. But that didn't stop him from roaming. Shea always adapted.
"Basically I'm a guinea pig for hire," he said. Since he was in college, Shea had been doing medical studies with pharmaceutical corporations.
"I've done them for everybody: Merck, Phizer, I've done the Viagra pill; you name it I've done it. I've done hundreds of studies," he said.
In 2001 he found himself getting off a bus in Austin, Texas with only 25 cents in his pocket. Austin is the home of five major pharmaceutical laboratories, and for Shea that meant easy money.
"Actually I got there a day too late for my screening, but I ended up screening for another study. I realized with all the labs there I could survive just off of studies," he said. "So I went down to the Salvation Army Emergency Shelter there, they got one right down on 6th Street."
Shea traveled to the Chicago area in 2004 to participate in more studies, this time with Abbott Laboratories in Waukegan, IL. In time he worked his way up to Milwaukee, and eventually to the Salvation Army Emergency Lodge.
Taking Refuge
Not everyone needs to remain homeless.
Shelters such as the Milwaukee Salvation Army Emergency Lodge, The Guest House, Hope House, Joy House, Casa Maria and the Milwaukee Rescue Mission provide temporary, semi-permanent, and even permanent residential options for those in need.
Thomas Flatley has worked as the Program Support Specialist at the Emergency Lodge in Milwaukee for the past four years.
"They call it the new poor now," Flatley said. "The lower class or lower middle-class who never thought they'd be in this situation. I guess it's just the economy, or maybe they lost a job that they may have had for a number of years. There's no face to homelessness."
Flatley said that the Emergency Lodge has even seen a nurse and a doctor take refuge there.
The Emergency Lodge was transformed from an old motel in 1979. It serves over 2,000 people annually, with a maximum capacity of 120 residents. The Lodge receives the majority of its funding through the federal government, and also through corporate, church, and private donations. People are accepted on a first come first serve basis, and the constant overflow shows that there is always a need.
Residents are allowed to stay for 30-90 days, depending on their situation. Individual case workers are assigned to each person. The Emergency Lodge accepts men, women and children so entire families can reside there together.
By volume of people served, The Guest House is the third largest shelter in Milwaukee, with only the Milwaukee Rescue Mission and Emergency Lodge surpassing it. It originated as a makeshift shelter run out of local church basements, and moved to the current location in downtown Milwaukee when the building was donated from the Friedens United Church of Christ in 1982.
The Guest House now has 86 residents every night with 15 overflow spots in winter, 3 different housing programs, and a total of 269 units of permanent supportive housing throughout the community.
Erik Koepnick is the Volunteer Coordinator and Outreach Assistant.
"What we try to do is provide comprehensive programming to help end the cycle of homelessness and to provide ways to overcome the obstacles that are created by homelessness," he said. "When people go through our programs they can gain independence and rely on themselves and give back to the community."
Like the Emergency Lodge, there is always a waiting list to get in. The Guest House also assigns case managers residents to help them forge a plan. The shelter mandates that every resident go through a personalized 5-8 month program called LEADS (Launch, Explore, Achieve, Discover, Succeed) to help them achieve independence. Koepnick said they have about a 65% success rate.
Residents of The Guest House start in a large room called the "Fresh Start" dorm which houses 60. As they progress in their program they can work their way up to rooms with more private space.
A small group of graduates from The Guest House called Living Proof was established in 2006. Today there are 10 members.
"They come back each month when we have a big dinner to celebrate the residents who are moving forward in their LEADS programs," Koepnick said. "They come back to speak to about their experience and to encourage the guys to keep going. Some of them have graduated more recently from our program but the core guys have graduated about 10-15 years ago and they saw a need for that encouragement from peers."
Falling Down…
William Black, 57, is the president and an original member of Living Proof. First checking into The Guest House in 1999, he was determined to end his own cycle of homelessness. Now he spends his days assisting others who are in the same situation.
Black was born in Mississippi but considers Milwaukee his home. Like so many others, his story started with addiction. He began drinking around age 13.
"My brothers were older than me but they thought it was something good to pass down," Black said.
Alcohol inevitably led to stronger drugs, and eventually he began experimenting with crack. His addiction had many side effects.
"Once you make drugs your god you get fuzzy and things start to go haywire," he said. "You lose contact with everything that's normal. And one day you just find you screwed up your whole life. You burn all your bridges and you just find one day that everything is gone."
Around age 48, he lost his apartment and was living in his aunt's basement. His three sons were staying with his wife.
"Thank God that their mother was pretty stable," Black reflected. "They didn't get a chance to see the screw-up. I feel like that would've left a bad scar on them…to see me hit rock bottom."
…And Getting Back Up
One day Black made the decision to walk out of the basement, and he kept walking. He said at the time he was just looking for a place to stay, but eventually he found The Guest House, and freedom. During his stay, he got a job doing sales with a company called Professionally Speaking. He was also able to put his vices down, and said he has now been sober for 13 years. Black said leaving the shelter was the hardest part.
"Once you come out of a place like that where everything is under control and you have to go back out into the world it's pretty difficult," he said.
A few years after leaving The Guest House, he and some other graduates of the LEADS program decided that they would form a support group to help others. They return monthly to The Guest House and other shelters to talk about their experiences and encourage others to succeed. Their motivation is the feedback they get from the homeless community.
"We don't keep any records or statistics because we're not governed by anybody. Our stat is when somebody comes up to us and says 'Thank you for helping me.'"
Living Proof is now trying to become a nonprofit organization to expand its influence across the United States. Black said they have a crucial need for support as the homeless community is growing.
"There's a whole new group of homeless now. People who have lost their jobs. Economic times are still throwin' them around. And they're mad."
The overarching message of Black's group is simple:
"If you fall down you can get back up, and we are Living Proof to show that it can be done."
Surmounting The Challenges
The list of services offered to the homeless in Milwaukee is expansive. Meal programs like The Gathering, St. Benedict the Moor and the Open Door Café serve meals almost daily. Clothing banks such as Casa Maria, House of Peace and UMCS dispense free apparel for those in need.
Community Advocatesalsooffers a variety of services in Milwaukee, including housing, utilities, healthcare and protective payee. They also have other branches such as Safe Haven, which accommodates the mentally ill, and Horizon House for women coming out of incarceration.
In Wisconsin, the number of homeless on the streets has actually declined in the past three years. Kari Lerch is the Milwaukee Continuum of Care Coordinator.
"For the most part we think that's due to the stimulus funding that came into the community three years ago," she said. "Other communities across the nation and even Wisconsin have run out of their stimulus funding and they're starting to see that uptick, even in the rest of Wisconsin."
Before the stimulus packages, homelessness was on the rise in Wisconsin.
The Milwaukee Continuum of Care is a branch of Community Advocates, and they conduct the annual Point in Time Survey. These surveys are used nationwide to assess the issue of homelessness on both a state and national level. The survey is conducted on a single night by coordinating with all of the homeless shelters and meal sites in the area. There are also four outreach teams that find and interview people on the streets.
The 2011 Point in Time Survey cited a decrease in Milwaukee's homeless population in recent years, dropping 15.6% from 2009 to 2011.
Lerch said Milwaukee is not the worst city in terms of homelessness statistics, but it's not the best either.
"I think you'll see bigger numbers in more of the southern states that have warmer climates year-round," she said. "For us it's more about how to deal with the unique issues that Milwaukee has such as out winter."
"Chronic homelessness" is a term established by the U.S. Department of Housing and Urban Development (HUD) to describe homeless adults with a disability and who have been homeless for a year, or more than three times in the past three years.
In 2011, Milwaukee's Point in Time Survey showed that 26% of interviewees were chronically homeless.
"We find that our chronic folks are usually the ones that have the most significant issues, and they become accustomed to that lifestyle. In some sense they can get comfortable and may have a harder time being willing to transition and work with someone to find a place of their own," Lerch said.
Mental illness is one of the greatest factors contributing to homelessness. Lerch said access is the biggest issue; the services exist, but not everyone can afford them.
"If you're homeless and have to go to an outpatient clinic to pay for your services, where are you going to get money? A lot of times that comes with prescriptions for medication. It's kind of this cyclical effect."
For the typical homeless person—an African American, middle-aged male—conquering a mix of overwhelming problems is an arduous task.
"If you're a single adult male, there's not a lot out there," Lerch said. "Unless you have a disability, basically all you're eligible for are food stamps. That's not going to get you very far. That's not going to give you money for rent."
Moving Forward…Or Back?
Every year the HUD compiles all the Point in Time survey data from across the nation to form the Homeless Assessment Report to Congress. In 2010's sixth annual report, there were nearly 650,000 homeless individuals in the United States on a single night of the Point in Time surveys, a 1.1% increase from 2009's data. This included over 79,000 family households. The number of sheltered homeless remained the same, while the number of unsheltered homeless increased by 2.8%. Over 1.59 million people used an emergency shelter or transitional housing program during the one year survey period, a 2.2% increase from 2009.
There is also a trend towards suburban homelessness. People using homeless shelters in large cities decreased 17% since 2007, while the use of suburban and rural shelters increased 57%.
Albeit slow, the national rise in homelessness rates is evident, and could worsen when stimulus funding runs dry. To this day, Shea and thousands of others remain homeless. He quietly left the Emergency Lodge days after the interview, without disclosing his destination.
Black said his Living Proof group is needed now more than ever.
"The money is not the thing right now; it's just trying to help people, because they're hurtin'. People are hurtin'."