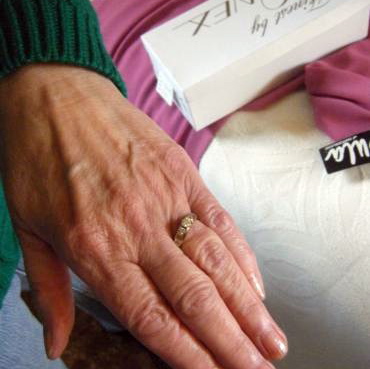 complete coverage: multimedia project
The savage roar of a Harley Davidson motorcycle rumbled through Adriane Laabs' suburban neighborhood while she tugged at weeds and tilled the soil in the garden behind her garage. Laabs' keen ears perked up from the ruckus and there in her driveway, sitting on the clamorous culprit, was Bob Kummerow.
Laabs met Kummerow, a fellow with lofty height, at a Widows or Widowers meeting. He had come for another visit after their first date over a cup of coffee at Burger King.
With mud smudged on her crooked hands and aging knees, Laabs invited Kummerow to stay and chat. He did, for two hours.
Nearly two years later, Laabs and Kummerow wear Harley Davidson rings on their left hands, promising themselves to one another. They take long distance trips to casinos, go to dances and play Sheep's Head and Cribbage, each dealing the cards left-handed. Laabs and Kummerow both take their French toast with powdered sugar, and they have established respectful relationships with  each other's  families. Kummerow's eight-year-old grandson asked Laabs if he could call her "Grandma."
"I get chills every time I think about it," Laabs said, wrapping her arms around herself.
Human beings never seem to lose the desire to love. Many senior citizens continue to seek companionship after the death of a spouse or partner. However, until recently, the senior citizen dating scene has stayed out of the limelight.
A Pew Internet and American Life Project Report found that from 2009 to 2010, social networking use among seniors  ages 65 and older doubled, from 13 to 26 percent.
Perhaps these growing numbers explain a dating phenomenon, but in Milwaukee, many seniors approach relationships the good old-fashioned way.
Not a marrying group, but a matchmaking group  While there are no formal studies to showcase the outcome, the Milwaukee-area group called Widows or Widowers (WOW), which holds monthly meetings at the Knights of Columbus, has produced dozens of senior couples like Laabs and Kummerow in a traditional fashion.
With about 180 members, WOW "is not a marrying club" according to former president Ralph Drees. Instead, he said it's an opportunity for people in similar circumstances to get together and realize that they are not alone in the world. Members plan walks, pizza nights,  fish fries, bowling and baseball outings, and dinner dances, along with their monthly membership meetings.
Sam Bielefeldt joined WOW in November at what she says was more coercion than suggestion from a friend. At her first meeting, Bielefeldt recalled wondering if the group was only for couples. She said she felt awkward and apprehensive, but understood why members were paired up.
"People get lonely," she said. "The trend is for a human being to seek a human being."
Having lost her husband less than a year and a half ago, Bielefeldt said she missed not having someone to talk to.  "Sharing is a natural human function," she explained.
A Milwaukee match   Before WOW member Kathy Kalvaitis started dating member Ken Szymczak, she was sure he would be a hermit forever.
"Ken didn't want to be bothered with women," she said.
Kalvaitis acknowledged the pitfalls of senior dating. First, she cited marriage as a downfall. That is, seniors who have not lost a spouse, are not commonly on the market. There aren't enough singles out there. Plus, Kalvaitis observed that getting married for a second or  third time later in life is uncommon.
"You get very set in your ways after so many years," she said. "I don't want to give up anything for a man, especially after you've been alone for a long time. You don't want to change. It's more difficult to change."
Kalvaitis said property issues stem from senior dating too.
"I want my children to benefit," she said. "I don't want to dole my things out to a man."
Finally, Kalvaitis said she wouldn't even consider moving in with another man.   "I don't want to take care of him," she said.
Still, Kalvaitis and Szymczak have been seeing one another for nearly six years after they were introduced by another WOW member during a dinner dance.
The duo has traveled the country together, and they both spend time with each other's families. Szymczak's mother-in-law and father-in-law invite the couple over for summer parties on their patio and they recently went on a cruise with his children and grandchildren.
Kalvaitis said her family adores Szymczak and that they are happy because she is happy.
Kalvaitis remembers "feeling really loved" while dating her husband.
With Szymczak, it's different.
"I don't get that warm, fuzzy feeling," she said, referring to her current relationship. "But it's better than being alone. When you lose your spouse, it's very lonely. It took me seven years to get somewhat back to normal."
Szymczak said his dating life has changed over the years, along with his lifestyle.
"When you're younger, you go to wilder places and hang out in big groups," he said. "I used to frequent the taverns quite a bit."   Not always dreamy
A 2008 study published by the journal Sexually Transmitted Infections by British researchers found that in less than a decade, STD rates had doubled among people ages 45 and older. Researchers cited the high midlife divorce rate and lack of sex education as probable causes of the increased rates.
The Centers for Disease Control and Prevention reported that senior male STD rates are up almost 50 percent since 1996.
In contrast, senior citizen STD rates in Wisconsin have shown no significant increase, according to Brandon Kufalk, public health educator advanced at the Wisconsin Department of Health Services.   Specifically, a Wisconsin sexually transmitted disease survey shows that STD rates in seniors 60 and above have remained at about 28 cases per year for the last several years. With no increase, the state has not examined the issue, Kufalk said.
No such thing  If Hart Park Senior Center Director Merry Noel Johnson is correct, perhaps her theory explains the low STD rates in Wisconsin seniors.
"They are not interested in dating and all the sexual content that goes along with it," she claimed.
Johnson said she doesn't believe there is such thing as a senior dating scene. Instead, she simply calls it a social scene.
"It comes to a point, it's too much work," Johnson said of dating. Johnson continued to explain that with age, people gain a sense of entitlement.
"I'm a little more direct as I've aged," she admitted. "You lose the social constraints. Sometimes relationships can falter with that directness."
Johnson said that dating and eventual marriage for seniors doesn't make sense financially, specifically pointing to social security and tax implications.
From pigeons to wedding bells
At the entrance to the Greenridge neighborhood in New Berlin are slightly crooked, red, store-bought "for sale" signs directing traffic to WOW member Mary Ann Alberti's home.
The house where she has lived  for 26 years and raised her three grown children  is on the market because on June 25, Alberti and her fiancee Jerry Kopps will exchange wedding vows in front of 170 guests. They've put both of their homes up for sale in order to move into a senior independent living community just minutes down the road from Alberti's home.
Alberti and Kopps met two years ago when they sat at the "first timer's table" at a WOW meeting. Alberti recalled immediately recognizing their similar interests, including an unusual one: a fascination with racing pigeons. Like Alberti's father, Kopps trained and raced pigeons for cash prizes, with some male pigeons costing up to $5,000. Alberti said they talked as if they had known each other for years.
After their initial meeting, they did not meet again until almost two months later, but when they did, they spent a day at the zoo.
"That morning as I was getting ready, I was very nervous, since the last time I had been on a date with someone was with my husband," she said. "I wasn't sure if I was doing the right thing."
Alberti called her youngest son Brian for reassurance. He told her to go have fun.
Outings to parks and supper clubs led to talk of marriage.
"We took our time because [we] had children involved," Alberti said.
But in July 2010, Kopps took Alberti to pick out what she calls a "dainty" ring and said, "I think we should get married." Alberti accepted.
"It's a good feeling when you find someone you didn't think you'd find," she said. "We're soul mates."
Whether it leads to marriage or not, many Milwaukee seniors are taking a traditional route to companionship.
With Italian cookies, cannolis and a wedding cake waiting in the reception hall, Mary Ann Alberti will soon walk down the aisle in a rusty pink, long-sleeve dress, toward her new groom — nearly 50 years after her first wedding.