In January 2016, a transgender woman — a student at the University of Wisconsin-Milwaukee — was asked to leave the women's locker room at the fitness center. When she filed a complaint, UW-Milwaukee's provost said she was welcome to use the locker room, but only if she covered up her "non-conforming genitalia." LGBTQ experts say the response is "deeply flawed" and singles out trans people for extra scrutiny. So, what exactly is the university's policy on transgender students in the locker room? The answer is unclear, because UWM administrators are waiting for guidance from the U.S. Supreme Court — and President-elect Donald Trump's crucial nominee.  
'Not female enough'
On January 27, 2016, Adelaide Kramer left English class in late afternoon and headed off for a workout at UW-Milwaukee's recreation facility, the Klotsche Center. Students call it "The K." She wanted to do some cardio and sit in the sauna before stepping back into Milwaukee's tundra. It was a typical Wisconsin winter day. Cold. Icy.
Adelaide finished her workout around 4:30. Wrapped in a towel from her chest to her knees, she made her way to the sauna in the women's locker room and sat in the humidity alongside another sweating student. A Klotsche employee walked in and looked at her.
"Are you supposed to be in here?" she asked.
"Yes," Adelaide replied.
"Are you sure?"
"Yes."
The employee left.
Adelaide sat on the warm bench, discouraged and uncomfortable. She exchanged a few words with the other student about the frequency of those encounters – the stares and the confused questions. The student sympathized. She said it made her "heart heavy."
A few minutes later, the employee returned to the sauna and escorted Adelaide to Klotsche Center Assistant Director Heath Powell's office. Adelaide says Powell wanted to "verify" that she was in the correct locker room.
Humiliated, Adelaide looked down at the bright pink laces on her running shoes. The jacket she wore, also pink, was tight across her chest, revealing her not-yet-developed breasts. A demeaning reminder, she says, that she did not look "female enough."
"I didn't think the locker rooms were going to be an issue," Adelaide said later, recalling the incident. "I was wrong."
The rights of transgender individuals in public spaces traditionally segregated by sex is a hot topic, making national headlines in early 2016 when North Carolina Gov. Pat McCrory signed into law a "bathroom bill" that specifically targeted transgender people. The law says that individuals may only use bathrooms and changing rooms that correspond with the designated sex on their birth certificates. Wisconsin Rep. Jesse Kremer supports such legislation at the state and federal levels.
At UW-Milwaukee, a public university recently named by Campus Pride as one of the nation's best schools for LGBTQ students, critics say the shadowy policy on transgender use of facilities is both unfair and unclear.
What is clear, is that the policy changed after Adelaide Kramer was escorted out of the sauna on that icy January day. She filed a complaint with the university, and in response, Provost Johannes Britz issued a very specific decision: Adelaide does not have a right to use the locker room the same way cisgender women do. Specifically, she must cover up her "non-conforming genitalia," or use an area shielded by a curtain.
Adelaide's story
Adelaide Karen Kramer was born Justin David Kramer in St. Charles, Minnesota. Adelaide says her family is politically "hard core" conservative, as was she, and it took her 23 years to come to terms with her identity. She used to pose hypothetical questions to her father as a teenager: Dad, what would you do if I was gay? What would you do if I was bisexual? His responses pushed her further back into the closet. In subsequent years, Adelaide attempted suicide three times.
"It was an unhealthy time period," Adelaide says. "You're living as someone that you're not. Now I feel a lot better about myself."
When she came out to her parents, it was over a text message. That was a year and a half ago.
"My dad has done a 180," she says. "And my mother, she is the most supportive person I could have. I'm so lucky."
She went by the name Justine until October; she changed it to Adelaide after deciding Justine was too similar to her old name and identity.
Adelaide Kramer, in her own words:
Adelaide identifies as a non-binary transgender woman; she now has breasts, is void of facial hair, but still has a penis – which she says is okay. It's not uncommon among transgender women to keep their male genitals, especially since sex re-assignment surgery is risky and can cost upwards of $20,000.
In January 2016, at the time of the locker room encounter, Adelaide was in the beginning stages of her transition. Her masculine facial features were sharp, her chest flat. To some, she looked like a boy in girls' clothes.
In spite of her challenges, Adelaide was an intelligent high school student who could have flourished in college. Instead, she transferred several times, looking for the right fit. A former student at UW-Madison and Milwaukee Area Technical College, Adelaide transferred to UW-Milwaukee for its engineering program and LGBTQ-friendly reputation.
"Overall, the atmosphere here is fantastic," Adelaide says. "There's always some people that aren't cool. But most people are awesome."
A shadowy policy
Under what Adelaide understood as UW-Milwaukee's anti-discrimination policy, outlined neatly on the university's LGBT Resource Center website, she would be able to use the locker rooms and restrooms that aligned with her gender identity.

So Adelaide entered the Klotsche women's locker room on January 27, as she had many other days before that. She showered in an open area and used the sauna just as cisgender women did.
After the Klotsche Center employee asked her to leave the sauna, Adelaide agreed to have that conversation with Assistant Director Heath Powell.
"Heath was condescending in his attitude, and gave off a strong vibe that he believes I do not belong there because I don't have the 'right' anatomical parts," Adelaide wrote in a Hate/Bias Incident Report filed with UW-Milwaukee Academic Affairs on February 3. "Heath said he had spoken with the Director of the facility, Steven Mohar, and said that they were in agreement on this 'policy.'"
Adelaide was not allowed to use the locker room for two days following the incident.
Earlier this year, she filed an open records request for e-mails related to her case and the locker room policy. The e-mails, which Adelaide shared with Media Milwaukee, show how the university quietly revised its locker room policy in response to her case.
In a January 29 e-mail, UW-Milwaukee Dean of Students Timothy Gordon wrote to Adelaide that she could use the locker room again, but with new restrictions:
"… It is necessary for you to ensure that other women are not able to see to your penis or testicles," Gordon wrote. "In terms of changing and showering there are a few options… including using the private showers… as these have curtains… There may be times when you are able to use the communal showers should it be possible to do so without others seeing your penis and testicles."
At the time, UW-Milwaukee only had one private shower with a curtain in the Klotsche Center women's locker room. Since then, UWM has installed eight single-stall showers and eight individual changing spaces between the men's and women's locker room.
Following the university's initial response, Adelaide filed a Discrimination Complaint Form with the UW-Milwaukee Office of Equity and Diversity Services (EDS) on February 9.
The complaint alleged that Klotsche's Mohar and Powell denied her access to the locker room. Adelaide sought a nondiscriminatory policy that treated transgender students the same as cisgender students.
But the e-mails show that administrators were dealing with other pressures behind the scenes. Dean of Students Gordon e-mailed Klotsche Director Mohar in late February asking about a female student who was "concerned about a male being in the women's locker room." Gordon wondered "whether or not their penis and testicles were visible." Other users of the Klotsche Center women's locker room were outraged that the university allowed any trans inclusiveness.
A complaint was filed in April by a UWM alum who spotted graffiti advocating for locker room inclusiveness near the Klotsche Center entrance. "The majority of women should not have to tolerate a few transgender males in the women's locker room for the sake of political correctness," the complainant wrote. "If the university changes the locker room policy to accommodate transgenders, I will no longer support the university."
Earlier, in February, three anonymous students reported "seeing a male in the women's locker room," according to an e-mail sent from Mohar to Nelida Cortes, Interim Director of Equity/Diversity Services at UW-Milwaukee. The students expressed concerns to Mohar, and were informed that "individuals who identify as female are permitted to utilize the women's locker room, however, any biological male genitalia must be covered." If a policy was in place designating such guidelines, it was not posted publicly.
Acknowledgement of a draft policy outlining what the Klotsche Center quietly been enforcing since February did not appear until March in e-mail correspondence between Mohar and Powell. The subject line of the e-mail: Locker Room Policies.
Heath,
Please see the attached documents with my initial thoughts. We can discuss further tomorrow.
Thanks,
Steven
The attached documents were redacted, but a separate document containing a draft policy does exist, dateless. The document was included with the e-mails obtained through Adelaide's open records request.
The draft policy, named "University Recreation Inclusive Locker Room Policy," outlines the conditions under which Klotsche Center visitors are able to use the locker rooms. Most notably, individuals using locker rooms that do not correspond with their assigned sex must adhere to the following or face consequences:
Individuals possessing female genitalia or breasts who wish to use the designated men's locker room must ensure that their female genitalia and breasts are not visible to other users of the men's locker room.
And…
Individuals possessing male genitalia who wish to use the designated women's locker room must ensure that their male genitalia are not visible to other users of the women's locker room.
The most striking element of the UW-Milwaukee's draft policy is the mention of genitalia, and the need for certain people to cover theirs up. Since the debate around transgender access has focused mostly on bathroom usage, there has been little public discourse around locker room protocol and body parts. When students are asked to indicate their sex or gender on official UWM documents, they are asked if they are male or female, not if they have a penis or a vagina. Gender as a social construct is now a widely accepted idea, which is unrelated to biological sex and the body parts that correspond, according to definitions from the American Psychological Association.
After reviewing UW-Milwaukee's "interim measure," the American Civil Liberties Union of Wisconsin blasted it.
"The ACLU strongly objects to UWM's proposed 'inclusive' locker room policy," wrote ACLU spokesperson Molly Collins in an e-mail. "As we understand the proposed policies, transgender students and Klotsche Center members will be singled out from other students and members by being required to declare their preferred gender… and may even be ejected from the locker room, excluded from recreational facilities and disciplined if someone believes their body doesn't fully conform to the gender of the locker room."
Addressing the "covering up" and "private showers" elements of the policy, The ACLU goes on to say that UWM should not "put all the burden on trans people by subjecting them, and only them, to extra scrutiny and potential discipline."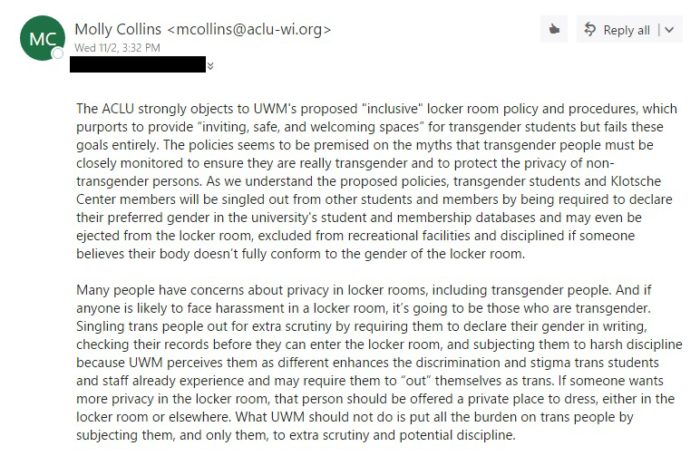 Backlash from faculty, students
While UW-Milwaukee's evolving policy was not posted publicly, it landed on the agenda of a university committee and sparked angry responses. The Chancellor's Advisory Committee for LGBT+ Advocacy has been debating the locker room policy since February 2016, shortly after Adelaide's sauna incident.
Committee member Cary Costello, an associate professor of Sociology, wrote a strongly-worded e-mail to the committee in opposition.
"The greatest failure of the draft locker room policies is that they treat the bodies of people whose bodies do not conform to the stereotypes of binary sex as unacceptable, by requiring nonconforming body parts to be concealed at all times from the eyes of others," Costello wrote. "I hope the committee will send a strong message that these proposed documents are deeply flawed, put UWM at the risk of a Title IX lawsuit…."
The committee worked on re-writes and edits to the draft policy throughout the spring semester.
"The one written was pretty awful, so the committee re-wrote it to something that is more in line with what would be expected of a university, especially a university that wants to be LGBT inclusive," says Sarah DeGeorge, a graduate student at UW-Milwaukee who sits on the committee and is, herself, transgender.
The UW-Milwaukee Student Association also opposed the draft policy, voting unanimously in April to endorse changes in accordance with the LGBT+ Advisory committee's suggestions. The SA outlined problems in the policy and provided possible solutions, including treating all individuals equal "regardless of body," in an April 20 letter that was shared with the Chancellor, Vice Chancellor of Student Affairs, and the Chancellor's LGBT+ Advisory committee.
"The rule was created to ensure that the majority of people feel comfortable disrobing in the locker room. We get that," says Student Association President Mike Sportiello. "However, we don't believe that other people feeling uncomfortable seeing non-conforming genitals is more important than treating transgender and intersex people like equal citizens."
The LGBT+ Advisory Committee voted in May to forward the Student Association's suggestions to UW-Milwaukee Chancellor Mark Mone.
Awaiting Supreme Court ruling
In late October, the U.S. Supreme Court announced that, for the first time, the justices will hear a case related to transgender access. The case involves Gavin Grimm, a transgender boy from Virginia who was allowed to use the boy's bathroom – until the local school board adopted a policy requiring students to use the restroom and locker rooms aligning with their biological genders.
The case is likely to be heard in 2017, and a justice appointed to the Supreme Court by President-elect Donald Trump could determine its outcome. Since Justice Antonin Scalia's death, Trump has put forth names of potential nominees who are outspoken against LGBT rights.
With federal law unsettled, there are no specific guidelines or decisions on transgender access for UW-Milwaukee to draw upon.
"From what I gather, UWM Legal has made the recommendation to the Chancellor that we should just sit tight until it's decided in the Supreme Court," DeGeorge says. "Instead of going with a policy that federal guidelines currently support, they are going with that bad policy."
Meeting minutes from the November 2016 LGBT+ Advisory Committee note that Chancellor Mone is in support of the legal department's recommendation favoring the current Klotsche policy "based on the need to balance rights for transgender people who need access to facilities with cisgender people who want their privacy."
A final decision for Adelaide
On June 14, UW-Milwaukee's Office of Equity/Diversity Services issued a finding on Adelaide Kramer's discrimination complaint. The EDS Investigation Report, which refers to an "interim measure" requiring transgender people to cover up non-conforming genitalia, concludes that Adelaide was not discriminated against in the locker room in January.
The document says that university officials consulted case law from the U.S. Department of Education's Office of Civil Rights (OCR), which "has not yet provided clear guidance under Title IX."
In her appeal, Adelaide argued that the university cited Klotsche Center locker room users who were uncomfortable with her presence, but minimized users who supported her being in the women's locker room – like the sympathetic student who sat with Adelaide in the sauna the day she was asked to leave. Adelaide wrote that she has been using the locker room several times a week, including the communal showers, without incident.
Two months later, the university's shadowy "interim measure" was confirmed in the final, official decision from UW-Milwaukee Provost Johannes Britz. In the strongly worded response to Adelaide's appeal, Provost Britz concluded that transgender students at UWM do not have the right to expose their genitalia in a locker room that does not correspond to their biological sex.
"…in order to protect the privacy interest of others – which includes the many minor females – in not being exposed to biologically male genitalia, I find that the interim policy was appropriate under the circumstances present in this case," Britz wrote. "That is, it was appropriate to allow the Complainant into the locker room that comports with her gender identity, but it was simultaneously appropriate to impose reasonable restrictions prohibiting her from exposing her non-conforming genitalia to others."
Britz declined Media Milwaukee's request for an interview; instead, University Relations provided a statement:
"While there is no policy in place at this time, UWM students are free to use the locker room that aligns with their gender identity. Interim protocols are in place for individual Klotsche users; however, out of respect for their privacy, we are declining to discuss the specifics of those protocols. We want to emphasize that we are working toward developing a policy that will foster an inclusive environment on campus and respect the rights of all Klotsche users."
So what guidance is there for transgender students and faculty at the Klotsche Center? Is there an interim policy, a draft policy, or no policy? According DeGeorge of the Chancellor's Advisory Committee for LGBT+ Advocacy, there is no clear plan.
"Essentially, where we are at right now is that there's not a written policy," DeGeorge says. "There's a vocal policy, and it is pretty much in line with the original, awful proposal."
If there is a verbal protocol in place, how would transgender students know about it?
Director of University Recreation Steven Mohar also declined an interview request, but provided a statement through University Relations:
"Klotsche users are welcome to use the locker room that aligns with their gender identity. In the event an individual requests a locker in a space that does not align with that user's sex (as indicated in PAWS), a member of the University Recreation staff (Klotsche management) will need to override the locker assignment software to complete the locker assignment and will, at that time, also request a brief conversation with the user to discuss the user's needs. In this manner, University Recreation seeks to ensure all Klotsche users are accommodated and able to fully enjoy Klotsche's facilities."
Mohar's statement to Media Milwaukee does not align with Provost Britz's ruling about "nonconforming genitalia" in Adelaide's case. Information about locker assignment software and the "brief conversation discussing the user's needs" is not disclosed anywhere in the University Recreation Handbook.
When Media Milwaukee asked how students would know about the protocols in place, UW-Milwaukee Interim Senior Student Affairs Officer Jim Hill provided this statement:
"Information about the interim protocols has been shared with the Chancellor's LGBT Advisory Committee, the front desk staff and supervisors in the Klotsche Center, the Dean of Students Office, the Office of Equity/Diversity Services and the LGBT Resource Center. Students with concerns about using the locker rooms are most likely to reach out to these groups, who can explain the protocols to them."
In short, UW-Milwaukee is keeping the policy under wraps until administrators figure out what to do.
"There is no firm timeline for this because law in this area is still developing," Hill's statement said.
In October, after nearly 10 months fighting for her right to use the Klotsche Center locker room without special restrictions, Adelaide decided that fall semester would be her last at UW-Milwaukee. She is moving to St. Cloud, Minnesota, and hopes to one day finish her engineering degree.
"I really thought this might be a place where I could finally be my true self, but it's not," says Adelaide, who just celebrated her 25th birthday. "If I could sum up my experience at UWM in one word, it would be 'disappointment.'"
In the meantime, she continues to develop as a woman. She's practicing applying lipstick and noticing men admiring her quick-wittedness, her smarts – and her ice blue, deep set eyes.
But those are the same eyes that have spent endless nights welled with tears; the same eyes that have studied case after case on transgender rights; the same eyes that focused on the concrete ground 20 flights below her feet as she contemplated ending her life.
"I have denied my identity and been walked over enough," she says. "I would've gone somewhere else if I knew this was going to happen."
CORRECTION: Because of an editing error, the original version of this story reported that Chancellor Mark Mone declined Media Milwaukee's request for an interview. Mone did not decline an interview request. Via an email to University Relations & Communications, Mone was offered an opportunity to comment on the Klotsche Center locker room "interim protocol" — specifically, how students would know about a policy that had not been posted publicly. University Relations & Communications responded with a statement on behalf of Interim Senior Student Affairs Officer Jim Hill.