The half-empty courtroom in the Milwaukee Safety Building was silent as defendant Oscar Barrera was sentenced for punching a man in a tavern fight, ultimately killing him. As Judge Jeffrey A. Wagner gave his sentencing, Barrera's family gasped in unison when they heard Spanish interpreter, Bruce Goodman, say "60 months in prison with three years probation."
Barrera, 42, was charged with one count of aggravated battery (great bodily harm with intent to cause bodily harm) on Dec. 13 after he got into a bar fight and punched 30-year-old Eradio Hernandez-Galvezlater on the side of the head with a closed fist. This happened in front of a bar located at 101 E. Mitchell Street called "La Mexicana Tavern."
Barrera cooperated with officers, by admitting his crime and was arrested on Aug. 2 and released after his bail of $1,500 was posted on Aug. 3. He was then turned over to "Justice Point Supervision." Barrera also entered treatment for his anger and alcohol issues, at "The Shore Clinic."
The day of his sentencing, Barrera sat in the last pew bench with his wife and sisters as they waited for Judge Wagner to call his case. With just a bench in between them, the family of Hernandez-Galvezlater sat closely together and just as anxious.
As the rest of the cases finished and the courtroom emptied, it was time for this case to unfold. Barrera entered the glass enclosed section of the courtroom and sat in between his Lawyer, attorney Matthew Tyler Luening, and interpreter Vicki Bermudez. He hung his head low between the collars of his gray pea coat, as the Judge called the victim's mother, Luce Galvezlater-Torres to the stand, to give her statement.
She stood up from the bench and began crying immediately as she sat down in front of the microphone. It was a challenge to get through spelling her name for the court while trying to hold back the tears.
"I miss my son every single day and no amount of time or money can bring him back, but his [Barrera] family can see him and we can never see my son again," she wept.
She returned to her seat in between her other son and daughter as they comforted her.
Barrera apologized to the family during his statement to the court, saying, "I am so sorry to the victim's family and to my family, both have suffered a great deal. This was an accident. I didn't go to the bar with intentions to get in a fight with someone, let alone kill someone," Barrera said quietly into the microphone.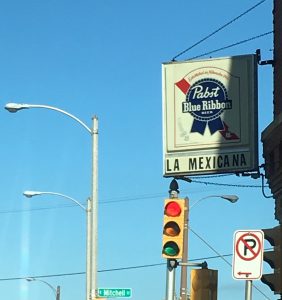 The criminal complaint states, that on July 28,  Hernandez-Galvezlater went to La Mexicana Tavern with a friend where Barrera was already drinking at the bar, when the two began to have a verbal argument at around 1:30 a.m. The bartender working that night urged them to stop as it continued to escalate throughout the night. On the security footage from the bar, the victim stands up from his seat and approaches the defendant while arguing and then walks away, going back to his seat, but still continues to argue. Then, Barrera can be seen getting up from his chair and walking towards Hernandez-Galvezlater while using hand motions as if to say: "come outside." The footage then shows them both exiting the bar through the front facing entrance.
Once outside, Barrera punches the victim in the head once, causing him to fall to the ground, and then walks back into the bar, in a celebratory fashion. A few moments later, Hernandez-Galvezlater's friend walks outside to see why he never returned inside and sees him lying on the ground. His friend, identified as A.H. in the criminal complaint, said he thought the victim was passed out from drinking, so he picked him up and put him in the car to take home. During that whole time, Hernandez-Galvezlater never woke up.
The next morning at 9 a.m., the victim's friend tried to wake him up, but couldn't. A.H. says he went back to the bartender and watched the surveillance video and found out that his friend was not intoxicated, but that he had been punched and knocked out. That's when Hernandez-Galvezlater was taken to St. Francis Hospital.
At St. Francis Hospital, doctors decided to have the victim transported to Froedtert Memoral Hospital due to his critical condition, where he would need emergency surgery for a major brain bleed caused by his head injury.  While en route to Froedtert, Eradio Hernandez-Galvezlater unfortunately died.
According to the criminal complaint, the Autopsy conducted by medical examiner Dr. Brian Linert says:   "Dr. Linert located minor injuries to the body consistent with a fall. As well as a skull fracture and major brain damage, consistent with severe blunt force trauma to the victim's head. Dr. Linert determined that the victim's death was a result of blunt force trauma to the head and ruled the death, a homicide."
The next person to give a statement during the sentencing was the victim's sister, Alejandra Hernandez-Galvezlater. The young woman was also crying during her statement.
"I've had to stay strong for my family, and it's hard because the pain we feel, we feel it every single day," she said.
She returned to her seat and sobbed during the rest of the sentencing, while gripping the corner arm rest of the pew and with her hand to her forehead.
The last of the victim's family members to give a statement was his young brother Carlos Hernandez-Galvezlater.
"The image of my brother laying in a pool of his blood in a hospital bed will haunt me for the rest of my life," he cried as his face reddened. "I just want justice to be served."
The family sat together with an expression of distress on their faces as they hugged each other and listened to the rest of the statements.
The only member of Barrera's family to speak was his wife of 14 years, Jessica Barrera. She also shed tears, as she took the stand.
"I'm sorry to the victim's family, but my husband is a good man. He is a changed man from his previous crimes. He's the provider in our household and taking him away from us and your two daughters, nine and 12 years-old, will cause us a great deal of pain. How am I supposed to explain to them that they cannot see their father anymore?"
The previous crimes she's referring to are disorderly conduct cases from 2002 and 2003, where he was found guilty of both.
Barrera's attorney then explained to the court that the reason for the fight, was because Hernandez-Galvezlater was bad mouthing Barrera for a while but then began speaking badly of his mother when Barrera ignored the victim's previous comments. The mention of his mother then triggered his anger, leading to the fight. Barrera's mother died of gastric cancer when he was only 19-years-old. She was diagnosed in the late 80s and was in remission for many years, but then it returned resulting in her death.
In addition to serving time, Barrera must also keep going to a psychotherapist and will be subject to random urine and blood testing for drugs or alcohol during his probation period. He must also pay the victim's family $14,000 in restitution fees. Barrera and his family are also not allowed to contact the victim's family in any way.