The University of Wisconsin-Milwaukee currently enrolls 1,425 international students including 94 students from Iran, seven from Syria, and one from Iraq, and one UWM official says she's noticed a "Trump effect" of students asking about relocation to Canada.
The university is also urging international studies to avoid traveling abroad, and officials are concerned that the president's now suspended travel ban could affect research and a special program that brings Iranian students to UWM.
According to The Office of Assessment and Institutional Research, UW-Milwaukee's enrollment from Asian and African countries has consistently risen since 2006, including students from Libya, Somalia and Sudan  in previous years. However, the university currently enrolls zero students from each of these countries and has not enrolled any students from Yemen during the same time span.
Citizens of those seven countries – Iran, Syria, Iraq, Libya, Somalia, Sudan and Yemen – are subjected to Trump's ban, which is currently in limbo in the courts but expected to be rewritten this week.
While international enrollment has spiked from some countries, Wisconsin-Milwaukee has seen a decrease of just over 4,000 domestic students since its peak of 29,186 enrollees in 2009, and the university sees the international community as vital to alleviating the university's growing budget issues.
Jennifer Gruenewald, Director of International Student and Scholar Services at the Center for International Education on the UWM campus, hopes the ban does not adversely affect the university's blossoming relationship with Iranian students in particular.
"We have been really successful with students from Iran," she told Media Milwaukee. "It started with faculty from Iran, then once we had a cohort of 20 students from Iran, it was a friends and family phenomenon. But also the quality of education they were getting, most are graduate students or doctoral students. These are highly academically qualified students that are really contributing to the research agenda on campus."
Gruenewald followed up by saying, "I think it will make our enrollment decline. I think it's devastating to not only the students from the seven countries but to student morale as well. For the students that aren't from the seven countries there's a lot of what's next, where do we go from here."
The University of Wisconsin-Milwaukee was named one of the top 100 research facilities in America for the first time last year. and many international students are involved in research.
Dr. Aneesh Aneesh, a migration scholar and Senior Director of International Affairs and Outreach at the Center of International Education believes President Trump's Executive Order will bring an unwanted change to all universities conducting research.
"UWM will be affected, and all research universities will be affected severely. If you go to any engineering department, stem related fields or other fields of research you will see close to 100% foreigners, which means a lot of America's research," said Dr. Aneesh.
Provost of Wisconsin-Milwaukee, Dr. Johannes Britz said he understands the importance of the international community at UWM and hopes every student feels welcome and included.
"We need to do everything we can within in this uncertainty to help our students in need and make sure they have everything they need on campus," said Provost Britz. One of the core values that we share with our international students and faculty is that UWM is and will continue to be a campus that accepting of all of races, religions, genders and sexual orientation. We pride ourselves on being a diverse community."
Yet, Provost Britz urges international students to be careful while traveling and to reach out to campus officials if necessary.
"If you are an international student, do not travel abroad, do not do anything that can risk your legal status and even after the 90 days be careful in terms of travel plans. We will monitor the situation and we want to create a platform on campus where we can share experiences and give our students updates as to what's happening," said Britz.
The Center for International Education held an open meeting the Friday after President Trump issued his order. The center invited all international students with the hope to alleviate some concerns and to offer support.
Event attendees were greeted by small blue and white flyers complete with a heart-shaped American Flag and the words, "HATE HAS NO HOME HERE" in several languages.
The event was led by a group consisting of Provost Britz, Gruenewald, Senior Student Affairs Officer Jim Hill, Graduate School Dean Marija Gajdardziska-Josifovska and Student Association President Mike Sportiello, all of whom voiced concern and unity to the international community at the university before opening the floor to questions.
The panel urged international students to make sure they continue to stay enrolled full-time, keep all documents valid, work with authorized employment and to receive a travel signature from the Center for International Education before any travel.
On Jan. 27, 2017, President Donald Trump signed an executive order banning travel from the seven countries in the Middle East and Northern Africa. President Trump cited Libya, Iran, Iraq, Somalia, Sudan, Syria and Yemen as sanctuaries for terrorist activity and placed an immediate 90-day ban on entry into the United States from each country.
The president's order evoked the terrorist attacks of 9/11 as his main reason for the ban, and stated "The United States cannot, and should not, admit those who do not support The Constitution or those who place violent ideologies over American Law," inside the document.
The controversial executive order titled: Protecting the Nation from Foreign Terrorist Entry into The United States also realigned The U.S. Refugee Admissions Program for 2017 and denied entry into the United States for Syrian Refugees for at least 120 days. In addition, the order suspended former President Barack Obama's promise to accept 50,000 Syrian Refugees into the United States in 2017.
Furthermore, section three of President Trump's Executive Order called The Suspension of Issuance of Visas and Other Immigration Benefits to Nationals of Countries of Particular has left many international students at The University of Wisconsin-Milwaukee concerned about their status at the school, and ultimate future in The United States.
Although the executive order issued by President Trump was written into law to protect Americans from terrorism at home, according to the president, many have questioned the order's wording and claim it to be a blatant "Muslim Ban," prompting protests nationwide including one last week on the UWM campus.
With many international students living in constant uncertainty, The Center for International Education at UWM is working hard to ease the burdens some international students may face.
"We want them to know that our office is a home base for them," stressed Gruenewald.
The impact of President Trump's executive order has already hit UWM. "There is a Trump effect. We have three or four students that have asked us if we could help them identify a campus in Canada they could transfer to. They would like to stay, but they don't want to live in this limbo," said Gruenewald.
Dr. Aneesh believes The United States will suffer not only economically, but could lose its competitive advantage in the field of innovation if the president's order remains.
"The whole system has worked nicely for a hundred years. If you look at major inventions, you will see immigrant labor behind it. Whether is the co-founder of Google Sergey Brin, or current CEO of Microsoft and UWM Alum Satya Nadella. This is what we are going to stop, the executive order is just the start."
Dr. Aneesh went on to say, "The order kind of violates early laws. The 1965 Hart-Celler immigration act removed the national origins quota systems and in some ways by singling out different countries we are bringing back who will be accepted into this country or not. You won't get the best and brightest if you suddenly start filtering people by their skin color."
Recently, Federal Judge James Robart of Seattle filed an order blocking President Trump's executive order citing it as "contrary to the Constitution and laws of The United States."
The Trump Administration responded by appealing Judge Robart's order to the 9th Circuit Court, which was denied with a 3-0 vote just last week.
President Trump took to the social media platform Twitter to voice his displeasure with the court's vote.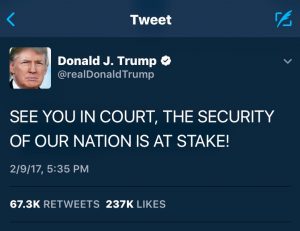 "See you in court, the security of our nation is at stake," tweeted the President.
Although The Trump Administration later walked back on an appeal to the United States Supreme Court, the president said he plans to rework the immigration order and present a new order at a later date.