The Libertarian student group whose idea it was to bring Milo Yiannopoulos to the UW-Milwaukee campus has received a Facebook threat that warns "Do not walk alone at night….We are coming for you. We are going to beat the sh*t out of you."    
The student members were ordered to leave their organization "or else."
The organization that received the threat – Young Americans for Liberty – has not contacted the police yet but sent the threat to Yiannopoulos' team and the UWM events team, said Morgan Paradis, an officer with the organization. This is the full threat: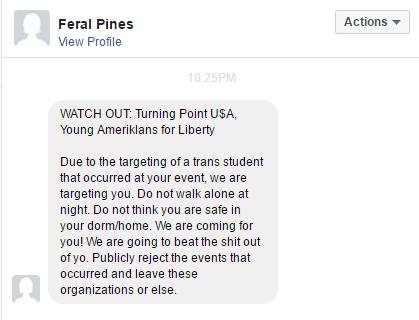 The Facebook user who sent the threatening message the day after Yiannopoulos' Dec. 13 speech goes by the name of "Feral Pines," which ironically is the name of a transgender musician from San Francisco who was killed Dec. 2 in a warehouse fire in Oakland, Calif. After Young Americans for Liberty tried reaching out to the profile picture-less user, the account was deleted.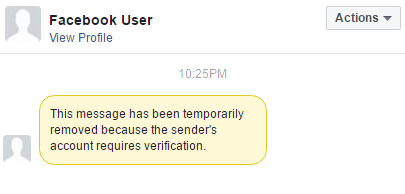 "I just thought I'd expose what whoever posted it said," Paradis said of the threat, which she gave to Media Milwaukee. "I'm over the drama of it all." She also posted the threat on a Facebook event page for Yiannopoulos' speech, writing, "Tolerance?"

She added: "Milo has effectively made free speech, problems with BLM, and PC culture hot topics in Milwaukee and beyond. I think that has accomplished some of our goals here."
Both Yiannopoulos' speech and its aftermath have been heated. Yiannopoulos singled out a transgender UW-Milwaukee student named Adelaide Kramer during his speech, projecting a photo of Kramer on a screen and mocking her. On Dec. 14, Kramer – who left the university in October – sent an expletive-filled email to Chancellor Mark Mone, who had written a campus-wide email criticizing Yiannopoulos for targeting the student.
"I saw your email and I am SO F-CKING SICK of your goddamn lip service," Kramer wrote to Mone. She also vividly described her emotional distress when Yiannopoulos singled her out (Kramer was in the audience.)
The scene outside the speech also grew tense. Voices echoed through UWM's Student Union as protesters and supporters of Yiannopoulos voiced their opinions. Some wore full black and burgundy mask to hide their faces, but that didn't hide their anger. Protesters had been shouting "Nazi scum" towards Yiannopoulos' fans. Inside the speech, protesters interrupted Yiannopoulos and gave him the finger.  Four police jurisdictions were on hand for security. Before the speech, a group of upset students delivered Chancellor Mone a petition asking him to condemn Yiannopoulos, who has caused controversy on Twitter and campuses throughout the country for his provocative commentary, which some label hate speech and others defend as free speech.
The threat from "Feral Pines" was made at 10:25 p.m. on the Young Americans for Liberty Facebook page. It read:
WATCH OUT: Turning Point for U$A. Young Ameriklans for Liberty. Due to the targeting of a trans student that occurred at your event, we are targeting you. Do not walk alone at night. Do not think you are safe in your dorm/home. We are coming for you! We are going to beat the sh*t out of yo. Publicly reject the events that occurred and leave these organizations or else.
Feral Pines, a 29-year-old woman who was born in Connecticut, died along with 35 others in the high-profile warehouse fire tragedy. Her death caused a controversy when friends asked the news media to refer to her as Feral Pines and not by her birth name 'Riley.'
However, Paradis said she was not concerned.
"We aren't worried about it," said Paradis.
She had been sitting at her apartment desk chatting with her friend Max on Facebook about the event, when she had received the email. After finding the email amusing, she decided to expose Feral Pines.
"People thought they could stop the event from happening by protesting, but we have demonstrated that is not how freedom works, and had a good time doing it," said Paradis.
Paradis and YAL invited Yiannopoulos to come to UWM in July, but its national organization feared losing non-profit status. He was still able to come because the group Turning Point USA sponsored the talk. The Young Americans for Liberty group promoted the speech on its Facebook page, which was where the threat was sent, said Paradis.
"I'm super happy with how the event turned out. A friend of mine told me the talk inspired her, and gave her hope," said Paradis, who gave the threat to Media Milwaukee.
YAL is a pro-liberty organization for young Americans. With 804 chapters and 250,000 youth activists, they're the largest organization in their field, according to their website.
UWMs YAL chapter says it exists to "enlighten students at The University of Wisconsin-Milwaukee and open them up to the ideals of liberty. This organization chapter's plan is to mobilize liberty-minded students to spread awareness of the liberty movement on the UWM Campus and throughout the UWM area."
The issue of when a Facebook comment constitutes a "direct threat" is a complicated one that the U.S. Supreme Court has issued some guidance on, but there is still some confusion over the issue. The Court reversed a man's conviction for Facebook comments, saying a person's mental state/intent should be considered.
Paradis is frustrated that the full content of Yiannopoulos' speech is not being considered.
"Milo talked about a lot more than the trans student in his lecture. That was a very small part of the speech. I feel like the rest of his talk is being neglected. The title was 'Master Baiters: The Liberals Keeping America's Race War Alive.'"
Paradis is over the drama and doesn't expect for anything to actually happen.
Since the event, YAL's Facebook page has received 1-star reviews, which the members find humorous. They've also received positive reactions and are pleased with how things turned out.