UW-Milwaukee student journalists writing for Media Milwaukee.com won six first place regional Society of Professional Journalists' Mark of Excellence awards, and those entries now head to nationals, SPJ announced.
In addition, seven other UWM journalism stories won finalist awards in the regional competition, which encompasses student journalism from Wisconsin, Minnesota, North Dakota and South Dakota.
Altogether, Media Milwaukee student journalists have now won 49 major college journalism awards  in four prestigious competitions for a year's work in radio, print/online, and television categories. Jessie Garcia Marble, Jane Hampden-Daley, Jessica McBride, and Jeff Loomis supervised the work of the award winners in journalism courses at UWM's Journalism, Advertising and Media Studies Department (JAMS).
Among the award winners heading to the national Mark of Excellence SPJ competition: The Media Milwaukee news site as a whole, which won first in the four-state regional competition for best independent online student publication. The other first place honors included Mary Jo Contino's searing investigative feature on a transgender student and UW-Milwaukee's locker room policies.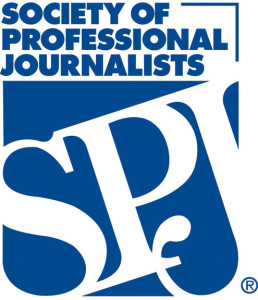 According to SPJ,  the Mark of Excellence Awards honor "the best in student journalism," and entries are judged by professionals. UWM's student journalists won awards in a wide variety of categories. The regional winners will now compete at the 2017 Excellence in Journalism competition in Anaheim, California.
JAMS 320 reporting class won two first-place awards for collaborative class projects on the university Athletic Department controversies and Milo Yiannopoulos' controversial speech on campus. Rounding out the first place honors: Radio feature stories by students Amanda Watter and Rachel Pagel.
The SPJ awards come on the heels of a string of UWM student journalism awards in the Wisconsin College Media Association (14 awards), Milwaukee Press Club (20 awards), and Eric Sevareid Midwest Broadcast Journalists Association competition (2 first-place honors, including for best news site and How the Mississippi River Turned Red, a multi-class project interviewing voters after the 2016 presidential election). A separate story on the recently announced Sevareid award winners will be published shortly.
Here are the award winners:
Regional 1st Place Award Winners – Go to Nationals

Media Milwaukee Staff, Media Milwaukee, Best Independent Online Student Publication
Mary Jo Contino, "UW-Milwaukee Transgender Locker Room Policy Remains Under Wraps," In Depth Reporting
JAMS 320 reporting class, Milo Yiannopoulos Coverage, Online News Reporting (Margaret Sponholz, Jenna Daroszewski, Kaliice Walker, Keaton Walkowski, Luis DeLeon, Nicole Frechette and all contributors to the Live Blog)
Amanda Watter, "High School Students learn About the Devastation of Suicide," Radio News Reporting
Rachel Pagel, "Relationships Are Focus of Student Musical," Radio Feature
JAMS 320 reporting class, UWM Athletic Department Controversies, Online Sports Reporting (Tisia Muzinga, Paul Willems, Miela Fetaw, Kris Schimmel)
Regional Finalist Award Winners
Media Milwaukee Staff, "How the Mississippi River Valley Turned Red," Online In-Depth Reporting. (Jaimie Anderson, Brandon Anderegg, Gabrielle Barriere, Aubryana Bowen, Jenna Daroszewski, Dino Dominici, Nicole Frechette, Jenna Gaidosh, Jordan Garcia, Madison Goldbeck, Ean Holtz, Keio Horton, Chardanay Hunt, Sabrina Johnkins, Christina Luick, Matthew Mussa, Ana Martinez-Ortiz, Morgan Paradis, Allison Steines, Stevan Stojanovic, Nyesha Stone, Katarina Vergara, Kaliice Walker, Keaton Walkowski, Amanda Watter, David Watters)
Darien Yeager, "Students Not Prepared for Work World, Employers Say," Radio News Reporting
Dan Zielinski, "Wichmann believes team can prove doubters wrong," Online Sports Reporting
JAMS 320 reporting class, Covering the Democratic Debate, Online News Reporting (Matt Campbell, McKenzie Huckabay, Benjamin Slowey, Somer Servais)
JAMS 500 reporting class, "Modern Day Leper," Online Feature Reporting (Armando Manriquez, Ashley Haynes, Jakayla Phillips, Jordyn Noennig, Madeline Gecewicz, McKenzie Huckabay, Miela Fetaw)
Shana Wilson, "Against the Academic Odds," Online Feature Reporting
Luke Zembrowski, "Faces of UWM: The Iraq War Vet (But Don't Tell His Parents)," Radio Feature
Save
Save
Save
Save
Save
Save