Thirty-seven professors and other staff members at the University of Wisconsin-Milwaukee were accused of sexual assault and sexual harassment in the past five years, but, despite the national attention on "silence breakers," little is known about the complaints because the university has yet to comply with an open records request seeking details, a Media Milwaukee investigation has found.
The university has also not fulfilled an open records request seeking the amount of financial settlements made in such cases over the past 20 years. Eight of the cases were sexual assault accusations involving everyone from professors to other staff members, including a lecturer and an advisor, according to university documents obtained through an open records request. Three more involved discrimination-related claims.
The document provides the outcomes of each case – the university sided with the accused almost 70 percent of the time – but not names or details, including whether the complainants were students or other staff. Older records are scattered throughout multiple files in an "equity and diversity" office plagued by high turnover, so, despite a request asking for aggregate numbers spanning the past 20 years, UWM only provided the last five without incurring extensive cost.
A team of student journalists for Media Milwaukee filed multiple open records requests, researched past cases, attended campus meetings, and contacted people accused of past sexual harassment and hostile work environment cases who remain on campus. Multiple requests are still pending. Media Milwaukee will report on further developments as they come in.
In a series of open records requests filed in November and December, Media Milwaukee asked for all sexual harassment complaints against professors and other staff from 2015 to present and all sexual assault complaints against professors and staff from 2013 to present, including the decisions; for the aggregate numbers of complaints in the past 20 years; for the amount of money UWM has paid to settle such cases in the past 20 years; and for complaints lodged against two specific professors. Other than the partial aggregate numbers, UWM has not yet fulfilled any of those other requests. Media Milwaukee first made the request to see some – a smaller amount – of the complaints Nov. 15 and for the monetary settlement amounts on Nov. 27.
(Update: After Fox 6 reported on this Media Milwaukee story, the university released a statement to the television station that confirmed the numbers. When a Media Milwaukee student journalist asked UWM's PR contact, Michelle Johnson, for the same statement, she would not provide it and instead asked Media Milwaukee to send her questions. The statement says, in part, that, in most of the 11 cases with violations, the people accused were terminated and/or the people accused have left the university. The student journalists asked UWM in a November open records request for the outcomes of the cases but were not provided the termination information at that time, although they were given a chart that listed violation or no violation. The student journalists then asked UWM PR for the termination information, which was provided after this story was published. You can see the new chart here. You can read the university's statement here.)
"It all sucks," said Christine Ruh, a student who accused a UWM professor of sexual harassment and unsuccessfully sued him in district court several decades ago. "I lost everything I ever owned." Today that professor, who admits he had a relationship with the student, holds the honorary distinction of "emeritus professor."
In the aftermath of her denied suit, Ruh lost funding and faith in the university, eventually dropping out of school. "All these people are online talking about how they can't understand why people don't come forward," she said bitterly. "This is why. This is dangerous."
That position stands in sharp contrast to the beliefs of at least one professor accused of sexual harassment years ago, Jane Gallop, now a distinguished professor on campus, who told Media Milwaukee, "I believe that the possibility of professor-student relationships is good. It's probably ill-advised that a 19-year-old should date anyone two-15 years older than them, but, sometimes, it works."
As sexual harassment exploded into a national conversation again following the Harvey Weinstein allegations, the university is in the process of considering banning consensual relationships between professors and students under their power (and bosses and subordinates), Media Milwaukee found. This move comes at the behest of the UW System Board of Regents, but a key UWM faculty committee sent the policy change back for more debate this winter after discussing such questions as the definition of power. For decades, UWM's policy has not strictly prohibited consensual relationships between students and professors and bosses and subordinates, saying the university "cannot regulate such personal decisions," although the person in authority was supposed to report the relationship to a supervisor and remove the conflict of interest.
Asked in an open records request how many such self-reports were made in the last 20 years, the university said it did not keep track because the reports are in the individual personnel files.
The new policy, if approved, would bring UWM in line with the UW System's policy, which reads, "It is the policy of the University of Wisconsin System Board of Regents that consensual relationships that might be appropriate in other circumstances are not appropriate when they occur between (1) an employee of the university and a student over whom the employee has or potentially will have supervisory, advisory, evaluative, or other authority or influence, or (2) an employee of the university and another employee over whom the employee has or potentially will have supervisory, advisory, evaluative, or other authority or influence."
Although a separate policy would deal with sexual harassment at UWM, the UW System's consensual relationship policy notes, "Even where negative consequences to the participants do not result, such relationships create an environment charged with potential or perceived conflicts of interest and possible use of academic or supervisory leverage to maintain or promote the relationship."
"I feel uneasy about the policy being changed," Student Association President Emily Kuester told Media Milwaukee. "I want to know why it's changing and where this is coming from."
Kuester believes students should have a role in these changes and conversations. "I think that any issue that involves students should have students at the table," Kuester said. "Sometimes we get left out of important conversations, even when we are directly affected."
Accusation, then promotion
The Media Milwaukee investigation found that several professors accused of sexual harassment and hostile work environment in notorious cases from the 1990s have graduated to positions of power and honor at UWM, including one, Gallop, who openly advocated for student/professor relationships, once joking that her "sexual preference is graduate students." (For a more detailed feature story on Gallop and another case, click here.)
In 1997, an article in Times Higher Education on her began, "Can a feminist professor sexually harass her female students? No, says Jane Gallop, who argues that harassment applies only to men and that, in her experience, consensual teacher-student sex is no bad thing." Today, in a 2017 interview with Media Milwaukee, Gallop says, "The way to deal with it is not to outlaw it. I'm concerned when [administrators] treat students like protected classes, like children." The university's website lauds her as "a brilliant feminist theorist whose work has received national and international recognition." Gallop remains in charge of advising graduate students like the one she once kissed in public, overseeing their annual admissions, making policy changes and acting as the official "main point of contact," according to a description of her job duties.
Her English Department chair, Gregory Jay, told Media Milwaukee, "I cannot comment on confidential personnel matters regarding UW employees. I can say that Dr. Gallop is an outstanding administrator and internationally respected scholar. She holds the position of Distinguished Professor at UWM, the highest faculty title on our campus."
Another prominent professor, Stan Stojkovic, is now an oft-quoted dean of UWM's Helen Bader School of Welfare who acknowledged in a December 2017 videotaped interview with Media Milwaukee that he once had a relationship with a student who wasn't in his class years ago. He criticizes the university for what he says was a lack of due process when he was accused of a hostile work environment in the 1990s and, he says, exonerated after a lengthy process that initially involved discipline. That case involved fellow professors, not the student.
Stojkovic blamed an alleged inadequate investigator and, in a letter published in a book, alleged that university officials were "more interested in promoting an image of being sensitive to the demands of feminists on campus, many of whom could not discern fact from fiction due to their narrow ideological viewpoints."
The details of those cases were thrust into the news back then as the country was roiled by the Anita Hill and Clarence Thomas hearings. During that era, an investigative audit was launched by Assemblywoman Barbara Notestein (who said "something was rotten at UWM"), and an investigation conducted by the U.S. Department of Labor discovered that the university exhibited a pattern and practice of discrimination against women. However, it's impossible to review how the university has changed – if at all – because the details now remain hidden, at least for now. That stands in contrast to an era decades ago in which professors, like Gallop, whipped off books and letters about their situations. Hers was called "Feminist Accused of Sexual Harassment."
The blurb for her book on Amazon reads, "Gallop makes a case for the intertwining of learning and pleasure. Refusing to acquiesce to an imperative of silence that surrounds such issues, Gallop acknowledges—and describes—her experiences with the eroticism of learning and teaching."
What's interesting is how hard it is to find out any details about more recent cases, even when they involve accusations of sexual assault and involve a university that pledged to change after federal scrutiny. Media Milwaukee journalists have also been involved in a two-month long open records battle for the police reports against another high-ranking professor who is a leader on campus. The official, whom Media Milwaukee has decided not to name at this time, was investigated by the Milwaukee Police Department in 2009, and, while the MPD confirmed the investigation was into a sexual assault accusation, they also refused to release the police reports.
For eight years, student journalists for two campus publications have tried – to no avail – to learn more about these accusations because the professor has remained in a position of power over students, and, in fact, holds a position of power that today gives him involvement in the recent sexual harassment/consensual relationship policy change.
In 2009, after receiving a request from the UWM Post, MPD's then Deputy Inspector Mary Hoerig cited the lack of an arrest and prosecution as the reason for refusing to release the police report, labeling the accusations "unfounded, uncharged allegations of a sensitive nature."  MPD would not explain why the case was deemed unfounded and not charged, however.
In 2017, the police department's rationale for withholding the information shifted when Media Milwaukee made a new request. MPD Police Sergeant Vickie Gagliano now grounded its refusal on a need to protect the "victim," writing, "I have determined that the public disclosure of the responsive sexual assault records would constitute an invasion of the right of privacy of the victim or the victim's family members, and would cause further emotional and mental distress, as well as representing a potential outrage to the community's notion of decency." That's despite the fact Media Milwaukee agreed to accept reports with the accuser's name and identifying information redacted.
That's also despite the fact that, when the Milwaukee Journal Sentinel sued the same department in 2009, seeking, in part, "incident reports for all sexual assaults during the 2009 calendar year," the state Supreme Court ruled that "there is no dispute that the records requested fall within the statutory definition of a record to be released," adding, "Wisconsin's commitment to open, transparent government rings loud and clear in the Public Records Law. The Law reaffirms that the people have not only the opportunity but also the right to know what the government is doing and to monitor the government." (That 2012 decision revolved around redaction costs; UWM-PD has released sexual assault reports in closed cases to Media Milwaukee in the past involving students, resulting in this award-winning story.)
The professor has refused to address the accusations, and said that he's "not at liberty" to speak on them, refusing to confirm or deny them. However, within the same time frame, the professor's lawyer, prominent criminal attorney Bob LeBell, called to demand information regarding sources, telling the investigating student journalist that her inquiry could be "a problem for you."
Media Milwaukee has also requested all complaints against the professor from UWM, a request that's pending. "If you want to play cat and mouse, you do that. If you think you're somehow involved in the media…" LeBell told the student journalist, claiming that her questions to the professor amounted to a "threat," and adding, "and that's a problem for you." He said, "You either talk to me or we will find out who you work for, we will find out the agency that you work for…" The student journalist had identified herself as a student journalist with Media Milwaukee in writing to the professor in question before the LeBell call, and she asked the professor about the accusations in detail and whether they were true or false.
Media Milwaukee has been corresponding with the official's lawyer and examining its recourse under open records laws and will continue to pursue this complaint until the police report and/or university open records requests are fulfilled. At that point, Media Milwaukee may reconsider its decision to withhold the professor's name.
The university's open records custodian, Julie Kipp, said it's possible that state law may require that the accused be given the chance to block the release of the details of the sexual harassment and assault complaints that UWM holds in court, shielding the complaints from the public eye, at least for now. She also said the student journalists might not be able to get the actual notices sent out to the accused, meaning that student journalists might never learn which staff members are being given the chance to seek such hearings. That's the result of the controversial Woznicki Law, which gives some public employees the chance to go to court to keep their personnel records secret. Of course, this means students won't always know when they've chosen to learn from or mentor under a faculty member accused of sexual misconduct, unless judges release the reports, that is. In a response to a request asking for complaints and findings, Kipp said that "there will be some notices that need to go out to the subjects of these records."  She has not yet formally made that decision, though, as she still needs to review the complaints.
Pace of Exoneration Up
The open records request on numbers that was fulfilled by UWM does show that the number of sexual harassment and assault complaints has declined since 2014. There are about 4,000 professors, academic staff, classified staff and grad assistants at UWM. A news story from the early 1990s indicates the numbers were somewhat higher per year back then.
The university, which stresses that it has made strides in the handling of such complaints, sided with more accused during the time frame studied. Out of the 35 sexual harassment and sexual assault complaints that were investigated and closed since 2013, 69 percent were deemed to be of "no violation" by the university.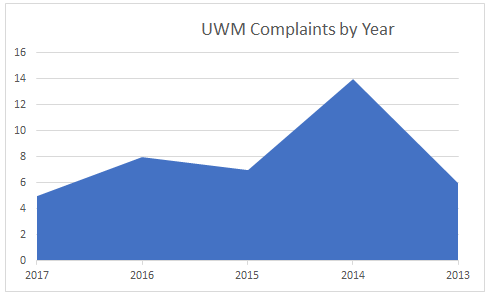 The pace of exoneration has escalated in recent years. In 2015, every case was stamped "no violation." In the 18 most recent cases, 14 were deemed "no violation." It's not clear what discipline resulted in the cases where wrongdoing was found because the university did not provide it (Update: the information on terminations, which you can read earlier in this story, was provided after this story ran). The Equity and Diversity office makes the first investigative finding, but the final decision is left with Provost Johannes Britz. Media Milwaukee is seeking sit down interviews with Britz and Chancellor Mone, a process that slowed because of the holidays. (Update, after this story ran, Britz sat down with the students. You can read his comments here. Mone released a written statement to the campus on the topic but declined an interview with a Media Milwaukee student journalist. You can read that story here.)
In the current era of "#metoo," it's impossible to tell whether present-day calls for a national conversation on sexual harassment will actually result in a change in culture at the university or merely more conversation. And it's hard for the conversation to start when you can't find out the details and person-after-person clams up and won't go on the record.
Billie Dziech is a University of Cincinnati professor of English and Comparative Literature who has occasionally lent her expertise on professor-student relationships to cases around the country. Of professor-student relationships, she said the necessities of the proposed new consensual relationship policy are numerous.
"Number one, I think it's (professor-student relationships) a bad idea because there's a power issue involved," she said. "Secondly, students who do get involved in these relationships make decisions very quickly without thinking them through, especially if they're very young. Third, I think we have to remember that it's not only professors who have power over students, but it's also [their] friends and students can't know that. [And] I think we also need to think about the other kids who sit in the classroom."
As Ruh, the graduate student who filed a lawsuit for sexual harassment against then-Art Department Chair Stephen Samerjan years ago, put it, "You're being conned; anybody who signs up for higher education and [puts] all this money into it is being conned. They're passing people around higher education in the country [and] the women in higher education are losing all their brain power. All of this knowledge is being drained out of our society because of people's lives being taken away. And it's horrible." The emeritus status the retired Samerjan now holds is an honor exclusively granted to those who demonstrate "sustained excellence in past contributions to the university," according to university guidelines.
The university argues that things are getting better, apparently in recent years at least. More effort has been made to track complaints of sexual harassment and assault involving university employees, according to the Office of Equity and Diversity Services. In the past, the priority of the EDS office was to investigate allegations within a certain time frame. Former Interim and now current EDS Director Nelida Cortes says she began compiling a more centralized document containing sexual harassment and assault complaints against university employees when she became director in 2015. Before that, the office had been extremely understaffed for about 10 years.
The Office of Equity and Diversity has seen multiple different interim directors since 2011. Cortes says she doesn't think relationships between grad students and their advisors are all that unusual, especially given their close working environment.
Cortes says that UWM's current discriminatory policy that covers consensual relationships and sexual harassment isn't unusual. She says that she doesn't know of any universities in the UW System with policies that are more strict than UWM's.
"The university does not want to keep people apart who want to be together," said Cortes in an interview. "The main concern here is married couples."
"As far as relationships between grad students and professors, anecdotally I've seen it," says Cortes. "It does happen." Cortes noted that she didn't have any specific examples of these type of relationships at UWM.
The current national climate is causing changes in industries across the country. While universities and companies may operate in different contexts, their responsibilities are similar. According to Astar Herndon, Wisconsin State Director of 9to5, universities can actually be considered as a company.
9to5 is a national organization which helps to bring awareness to women's issues. Another 9to5 representative details the policies typical at companies.
"It depends on the company size," says 9to5's National Communications Coordinator Casie Yoder. "Larger companies will prohibit relationships between direct chain of command."
Yoder says that federal sexual harassment laws allow companies who employ less than 15 people to fire an individual who complains about sexual harassment.
Herndon says that many laws at institutions do not properly account for power dynamics.
"From an advocate perspective," says Herndon, "our laws are old and antiquated. There needs to be updates."
"There's no way to put power back in the student's hand for this to be a healthy relationship," Herndon continued. "The system of it seems to cushion the person in power and is not really a protection of the more vulnerable party, who is generally a student and a woman."
Slate Magazine recently completed an investigative report looking at different university policies on the question across the country and found that there is "much debate over the propriety of professor­–grad student sex" but "most university handbooks…include statements that submit consensual relationships with any 'power differential' to stricter scrutiny than those between peers and explicitly forbid sexual relationships between professors and the students they directly teach or advise."
A literary shock artist
Gallop, the literary shock artist who once kissed a graduate advisee of hers in what she described as a "brazen and public" manner, is probably the best known professor on the topic at UWM. She also claimed at an ensuing conference titled, "Flaunting It" to have a "sexual preference for graduate students" in what she said was meant as a joke.
Gallop has been a constant source of university melodrama, which shouldn't be a shock to anyone observing her work: she once wrote a literary piece titled, "Resisting Reasonableness" and in her 1994 piece, "Sex and Sexism: Feminism and Harassment Policy," she used her preeminent feminist platform to claim that denying professors sexual access to their student would prevent them from being able to pedagogically engage on an in-depth, personal level.
Second-year Ph.D candidate Dana Beckelman was anything but a child when she made her claim of sexual harassment against Gallop for failing to grade her fairly after months of flirting and mixed messages, according to Lingua Franca. Gallop, in her 40s at the time, kissed the 30-year-old graduate student in a crowded bar with other students present.
Gallop was found guilty of violating a consensual amorous relationship policy from the complaint Beckelman made. Another student also made a complaint against Gallop, yet hers was dismissed. Beckelman died at the age of 48 from heart failure.
For Gallop, the two graduate students' claims were not fair. "I think that they were actually trying to harm me," she said.
In fact, Gallop said it would be pointless to ban such relationships because the ban would be unenforceable.
"I don't think a world exists where you can prevent all misunderstandings," she said. "It doesn't make sense to me to ban them. You can't make policies to protect people from ever making mistakes, which is different from being protected from predators."
This statement from Gallop is perhaps a tacit acknowledgement that some professor-student relationships are in fact, mistakes. However, it's worth noting that the year 1992, two years after the first allegation and the same year in which she faced another, was the same year she was promoted to distinguished professor.
Samerjan, who was the former UWM Art Department Chair from '89-'90, took a different position: "I think it's a good thing that the current policy has been clarified," he said, of the efforts by the UW System to do so.
Samerjan had a lengthy and public legal fight over the romantic relationship he had with Ruh, a student in his class.
Ruh alleged the relationship became harassing and emotionally distressing once it ended. Samerjan merely noted that he accepted his discipline from the university without resistance.
Samerjan, a chair in UWM's Fine Arts program at the time, stepped down from his position and served a suspension following Ruh's allegations of sexual harassment.
"When I went to school, there were uncertainties; [it was] during the '60s. I was a product of a generation for which I didn't grow up with the clarity," the former chair said.
Samerjan acknowledged having had a "consensual" sexual relationship with Ruh, but with the new proposed policy said, "You moot the issue of consensuality and go more directly to the point of power differential."
Samerjan explicitly explained that his biggest issue with existing policies that are currently on record is their level of ambiguity regarding definitions of harassment, conflicts of interest.
For him, the change would remove those ambiguities.
"I don't think it lends itself to much wiggle room," he said, "[and] it puts everyone on the record."
During the '80s and '90s, UWM's record portrayed a university struggling to provide a safe and fair work environment for female faculty.
According to the Associated Press, Professor Ceil Pillsbury received $126,000 in back pay and expenses in 1993 after the University of Wisconsin-Milwaukee denied her tenure.
Her award and case, which sparked a national furor at the time, came in the same year that another UWM faculty member, Associate Professor Gary Schlappal, hired in 1987, was accused of inappropriate sexual misconduct; the allegations included that he had sex with a student in his office multiple times and also had sex with a student while a kiln overheated, all reported in a Journal Sentinel article written by Tom Vanden Brook.
He was also charged for another alleged comment about one of his pottery students, "I had her in a motel room for a month with nothing but a bare bulb swinging over us and she still doesn't get it."
Eventually, Schlappal was fired by the UW Board of Regents in 1993.
Thoughts on due process
Originally from Milwaukee, Stan Stojkovic has been the Dean of the Helen Bader School of Social Welfare for nearly 14 years. He has worked at UWM for 34 years, traveling throughout the world studying the prison industry and providing media with a source of criminal justice expertise.
Stojkovic was an associate professor when he was the subject of an investigation in 1992, during which he and two of his male colleagues were accused of helping to create a hostile work environment for women at UWM's Department of Criminal Justice.
(Update: University PR provided further information after the story ran, saying, "The case involving Stan included no sexual harassment allegations against anyone. The case revolved around a hostile work environment where two female faculty members felt they were being discriminated against because of their sex, but the main issue was the denial of tenure of one of the men."
Media Milwaukee also notes the following: A Milwaukee Journal Sentinel article on Jan. 11, 1994 by Michael Zahn reported, "Three professors at the University of Wisconsin-Milwaukee who were accused of sexual harassment have been told that their appeal must be to a faculty committee, not to the courts. Milwaukee County Circuit Judge John E. McCormick on Monday dismissed a lawsuit filed against UWM by professor Carl Pope and associate professors Stan Stojkovic and Rickie Lovell, all of the criminal justice department of the School of Social Welfare. Two associate professors in the same department, Ellen Steury and Nancy Frank, have accused the men of sexual harassment, which they vehemently deny." A letter from Stojkovic was published in a book. He wrote, in part, "Therefore to be labeled a sexual harasser was personally devastating and in contrast to all my actions which have been to assist both men and women in my chosen academic field." He also wrote, "For campus feminists, I was a means to send a message to potential sexual harassers and to advance a political agenda to make the campus a gender-sensitive place."
According to Stojkovic, "The initial allegation was a 40-page complaint that tied together a series of events over 20 years. Things like, and there was no sex I want to make this very clear. There was no allegation. Nobody had sexual relations with anybody. There was no allegation of that. It's not like what you hear out there now. The only allegation that was sexually of nature was someone, she claimed that someone had thrown a book of sexual relations on her doorstep. When the lawyer asked her to produce the book, she couldn't produce the book. It had been thrown out. It didn't even have a Library of Congress number." He added that the accusations claimed "that the environment in the criminal justice department in the school of social welfare was hostile towards women, a gender discrimination environment." )
Media Milwaukee filed an open records request before this story seeking complaints and decisions against Stojkovic to gain additional details. It has yet to be fulfilled.
The book Heterophobia: Sexual Harassment and the Future of Feminism provides some details of the allegations that swirled at the time. One of the female professor accusers had alleged that she had a repressed memory of a male colleague – the book doesn't specify which one – leaving a pornographic book with a protagonist that had her same name. The book says the charges were eventually dropped and also involved tenure issues.
Stojkovic said that then-Affirmative Action Officer Eleanor Miller was called in to investigate the department and found that Stojkovic and the other two male professors named in the complaint were more likely to be guilty than not.
Miller, who now works in another state, declined to comment to Media Milwaukee, writing: "I have nothing to say. Sorry."
UWM Professor of Urban Planning Nancy Frank used to work in the criminal justice department and was one of the complainants. While she, too, declined to comment, Frank had this to write to Media Milwaukee:
"I am not interested in talking about the allegations relating to criminal justice faculty.  I will only say that Professor Stojkovic was not at the center of the problems at that time—nor was I. The central figures in that situation have moved on and are no longer at UWM and no longer employed."
As a result, Stojkovic's reprimand came in the form of a letter in his file, although he said that Miller was not trained to conduct such investigations and a hearing was never held to ascertain his guilt. He also says that, in the end, he was exonerated. (After this story ran, university PR provided the following additional information: "The dean at the time (James Blackburn) was cleared of any wrong doing, but the three professors were still given letters of reprimand, which were later rescinded after the FRRC hearing 2.5 years later." The student journalists had asked the university before the story ran for the FRRC findings and were told it would take location costs to pay for an estimated three days of work to find them.)
"At the end of the day, things ended the way they did," Stojkovic said. "We were vindicated and exonerated. The university told us they were not interested in pursuing this through independent means… They wanted it to go away so it went away."
He admitted that Miller was put in a difficult position and said he felt that the environment at the time was heavily influenced by national cases, such as the Hill-Thomas case and UWM's own swirl of controversy around figures like Samerjan and Gallop.
Consequently, he fought for the hearing mentioned in this Faculty Rights and Responsibilities Committee report submitted in 1994, two years after the allegations.
"The minutes were doctored," he said. "And we proved that. It's why the hearing only lasted 20 minutes."
Stojkovic and the others spent over $30,000 by his estimates, none of which was reimbursed. He never received an apology from the university (update: University PR said after the story ran that it was $50,000). He also said that, although he had a relationship with a student at the time, she refused to comment on the issue, was not in his class, and never filed a claim of sexual misconduct against him.
"Where was the due process?" Stojkovic asked.
Media Milwaukee put in an open records request for all complaints and decisions against Stojkovic, and it is still pending.
Following the investigation, Vice Chancellor Kenneth Watters initially cleared one of the professors and advised the other and Stojkovic to be more sensitive to the department's female faculty, according to an old Journal Sentinel article. However, the judge fined UWM $2,240 for failing to promptly respond and give the three access to the materials related to their investigation, the article notes.
Overall, the UW System in 1992 reported over 120 complaints of sexual harassment, according to the article.
Pattern and practice
During the 1990s, the U.S. Department of Labor investigated UWM and discovered the "pattern and practice" of discrimination against its female employees. Two years later, the U.S. Justice Department launched its own investigation into how UWM has handled sexual discrimination.
In response, the Department of Labor threatened to withhold federal funding if appropriate settlements were not met with the female professors who left UWM due to harassment and bias.
The UW System, UW-Milwaukee, and U.S. Labor Dept. developed a list of those professors and reached settlements, eliminating a scenario that threatened to put the entire UW System's funding at risk.
However, the university found itself involved with the federal government again in 2016, when the U.S. Department of Education's Office for Civil Rights investigated UWM for improperly handling a student's complaint of sexual assault.
The contents of the complaint, as described in this Journal Sentinel article, alleged that the university created a sexually hostile environment for a student who reported her alleged sexual assault and did not receive a prompt and equitable response from the university. That case involves another student (the federal government has found insufficient evidence that the university discriminated against the complainant or subjected her to a hostile educational environment, the Milwaukee Journal Sentinel reports.)
Sexual harassment is not a new subject in higher education. Blogs such as this one, "What Is It  Like to Be A Woman in Philosophy?" invite women to describe how they have been treated as students and professionals in the field of philosophy.
In October, The New York Times' story about sexual harassment allegations against Hollywood mogul Harvey Weinstein launched an avalanche of exposes into the state of sexual harassment existing in national institutions and industries, including Hollywood, Congress, the NFL and news organizations such as NBC and Vice.
The recent Media Milwaukee investigation comes on the heels of explosive new headlines exposing rampant sexual harassment in Hollywood, politics and the media industry. A few of the names include Roy Moore, Bill O'Reilly, Al Franken, and Mark Halperin.
A month later, the UW-Milwaukee Academic Staff and Faculty Senates took steps towards adopting the new sexual harassment policies, including revisions to the university's "consensual relationships" policy. The Academic Staff Senate has passed it; the Faculty Senate has not yet done so, sending it back.
While the processes leading up to the changes began last year, the timing is exceptionally coincidental.
UWM's current policy covering sexual harassment, known as S-47, is part of a larger discriminatory policy. This larger policy contains procedures for handling what it calls "amorous and/or sexual relationships," referring to relationships university employees have with other employees, and with students. According to the policy, UW-Milwaukee believes "that it cannot regulate such personal decisions. Instead, it "views them with concern" because of potential abuse of power and conflicts of interest.
According to Cortes, now director of the Office of Equity and Diversity Services, the current policy follows Title IX requirements. Cortes says that the wording for such policies can vary from school to school, as long as it follows the law. To her knowledge, other universities do not have more strict policies than UWM.
"The university recognizes that feelings might develop after a close working environment," said Cortes in an interview. "The goal of the policy is to make sure to eliminate the abuse of power free from coercion, force and pressure."
Cortes said that the current policy makes sure that the superior party does not make decisions that affect the performance of the subordinate party.
"I don't think it's widespread," said Cortes, referencing the scope of consensual relationships between teachers and students on campus.
The policy addresses the effects a power differential may have on this type of relationship. It acknowledges that employees with certain power over others in the UWM community, such as influence on a subordinate or student financially or academically, can use this power to coerce the subordinate or student into a relationship. It also outlaws consent as a defense in the case of a sexual harassment complaint, stating that the more powerful person would then assume all accountability.
Cortes said that complaints of sexual harassment are always investigated, and conflicts of interest are removed right away if a consensual relationship is reported. There also needs to be a level of proof for the university to act, and relationships need to be reported right away in order to take the appropriate actions.
However, the current policy maintains that the responsibility of reporting consensual relationships relies mostly on the more powerful party.
The policy states:
"Participants in such a relationship must act immediately to remove the conflict of interest. The person in the more powerful position in such a relationship shall notify in writing the relevant authority (Chair and Dean/Division Head) that appropriate action is being taken to remove the conflict of interest."
These written notifications are then sealed and filed in the individual's personnel file. The notices are confidential, but "are available as evidence in the processing of possible related sexual harassment in the future," according to the policy.
Herndon, Wisconsin State Director of 9to5, maintains that placing reporting responsibilities on the superior party, such as with a teacher who is in a relationship with a student, is still problematic.
"The key piece [in sexual harassment] is sexual advancement, and very much one party has a little bit more protection," said Herndon. "There's no protection for that student, and it's up to the word of the superior to say that they are in the relationship. It seems to be a policy that could open university up to potential scrutiny to the end."
After the change, there will be separate policies for consensual relationships and sexual harassment. The new sexual harassment policy, dubbed S-47.5, includes language from the original version of S-47, including definitions for consent, sexual harassment and sexual violence.
The policy also rephrases UW-Milwaukee's stance on the subject, saying that consensual relationships between supervisory employees and subordinates and employees and students are "inappropriate." It explicitly prohibits any relationships between employees and students under their instruction, or students who may possibly be under their instruction in the future.
The only exception is if the relationship began before the student came under the employee's instruction. If this is the case, the employee must report their relationship to their superior. From there, the employee must also comply in steps taken to remove the conflict of interest.
The new policy is much more specific and definitive, clearly stating processes for handling consensual relationships and leaving less to interpretation than the previous policy.
It also takes away some of the power from the superior party, placing more accountability on the employee. The responsibility of removing conflict of interest now lays more in the superior of the employee, rather the employee themselves.
"It would make sense that they would take away that provision all together," says Herndon. We're going to see a lot of businesses adjusting policy, certain policies that they may recognize can open them up to more scrutiny about sexual harassment and violence in the workplace."
The policy change coincides with a changing national climate surrounding sexual harassment. However, it has been in the works for some time, and it is unclear when the new policies will be enacted.
According to Cortes, the change in policy is the result of an effort to synchronize the consensual relationship and sexual harassment policies at all UW System universities. Cortes says that UW System President Ray Cross put new requirements in place following a recommendation from a December 2016 report from the UW System Task Force on Sexual Violence and Harassment.
At the Academic Staff Senate Meeting on Nov. 14, Joely Urdan stated that the changes were not coming from the Department of Education's decision to rescind Title IX requirements put in place by the Obama Administration. When such changes come from the DOE, the process takes years to create policy changes.
"Campuses are adopting uniform policy, with some tailoring to campuses," Urdan said at the meeting. "The processes and standard of proof will largely remain the same."
While the Academic Staff Senate passed the provisions unanimously, the Faculty Senate sent the policies back for revisions. According to Faculty Senate Minutes from Nov. 16, the discussion revolved around "inconsistencies between the policy and the current practice."
"As I understand it, we sent this back for revision because of concerns about potentially confusing terms of confidentiality in the policy," said Michael Newman in an email. Newman is the chair of the JAMS Department.
Kristian O'Connor, the University Committee Chair, said that the Policy Advisory Committee will review multiple changes made to S-47. These changes are the result of feedback from both the Academic Faculty Senate and the University Committee, which oversees the Faculty Senate.
"The majority of those edits were to clean up some of the previously existing language to better clarify processes," said O'Connor in an email.
According to Cortes, the University Committee decided not to receive reports regarding sexual harassment and sexual assault cases involving university employees sometime in the past. Cortes said that this occurred before she started as EDS director, so she was unaware as to why they voted to do so.
Cortes said that revisions to the policy would mandate that these reports would now be sent to the University Committee. The revised policy will then be presented again to both the Staff Senate and Faculty Senate and if approved, will be sent to the Chancellor.
"I believe the coincidental timing of these documents up for review in the current national climate has been a very good thing," said O'Connor. "It gave us a chance to re-examine our current practices to make sure they are thorough and appropriate."
O'Connor believes that the Faculty Senate's questions about the policy resulted in stronger language within the policy that clears up confusion during the process.
Multiple members on both the Academic Staff and Faculty Senates were contacted but declined to go on record about their reactions to the policies. "Since the previous draft was not fully approved and I have not seen the new draft, I believe it would be inappropriate for me to comment at this time," Susan Cashin said in an email. Cashin is the Academic Staff Senate Chair.
Representatives from 9to5 were more candid about their reactions. "It's definitely not a good idea for there to be any sort of physical or romantic relationships in the workplace," said Casie Yoder. "It gets complicated really quickly."
When asked if the policy was surprising, Herndon laughed.
"No, not at all," she said. "We lived in a country where Mad Men wasn't a joke, it was a real time. There was an idea that once you became 18, you became an adult, so having adult relationships was ok."
"We know that sexual harassment is based off a power dynamic," she said. "One party has a little bit more protection."
When asked if a subordinate could truly give consent in the presence of power differences, Cortes said she believed they could, citing the older age of grad students and the close working environment typical between student and advisor in that situation.
Cortes is pleased with how the university currently handles these issues, and how they have been handling them since she came to the EDS office. "I was really impressed with the people at the table and the expertise from different backgrounds," said Cortes. "Given that we're a university that isn't always centralized and works with governance, I gotta tell you, I was impressed that we were already doing things when I got here."
According to Cortes, "Janelle Ramsel had recently started as our Interim Title IX Coordinator…I began as the Interim Director of EDS on October 1, 2015, and am now the Director of EDS. I was previously the Interim Title IX Coordinator as well. Janelle now serves in that capacity. "
Before Cortes, the interim director was Jazmin Taylor. Taylor took over the position from Francene L. Botts-Butler, who began as the office's director in 2011. The tracked version of the change to S-47 can be found here.
UW System action
Separate Media Milwaukee journalists made attempts to contact UW System PR. One journalist filed a public records request via email, while another left a voicemail message requesting an official statement surrounding the UW System Task Force for Sexual Harassment and Sexual Violence. UW System Director of Communications University Relations Stephanie Marquis sent identical email responses to both requests.
"We want our campuses to be safe places to live, learn and work. The UW System has been implementing additional training and professional development, survivor resources, policy changes, outreach and partnership, and continual assessment of campus climate.  Below are several examples," she said.
"Systemwide sexual violence and harassment training for all employees and students. Training will be primarily based online to help ensure it is accessible for everyone, and can be completed easily and timely. Training topics include healthy relationships, bystander intervention, and the Campus SaVE Act.  With President Cross' prior approval, training for students is already underway."
Marquis also noted: "All new students will complete training within the first six (6) weeks of the start of their first semester. Please note that supervisors, managers, directors, responsible employees, investigators, hearing examiners and panels, and campus police will receive further in-depth training based upon their higher-level responsibilities at each institution."
Marquis added, "Development of a UW System website that connects victims of sexual violence or harassment with campus support services, such as counseling and medical assistance, reporting information, and other resources. It also serves as a clearinghouse for System policies, procedures and data, as well as state and federal laws, other reports, and research. You can also find information about the UW System Task Force on Sexual Violence and Harassment [also see December 6, 2016, press release announcing the recommendations]. A new comprehensive Board of Regents' policy, which consolidates formerly separate sexual violence and harassment policies and will serve as a template to assist UW institutions in efficiently adopting consistent policies across the UW System."
Media Milwaukee also submitted an open records request seeking the number of sexual harassment complaints for UWM and UW-Madison, from the UW System.  The student journalists have yet to be provided numbers.
Editor's note: If anyone has any information that would be useful to this ongoing student investigation, you can contact the student reporters Talis Shelbourne, Jennifer Rick or Miela Fetaw at media-milwaukee@uwm.edu.
This project was written as part of JAMS 320 news reporting class through the Journalism, Advertising, and Media Studies Department at UW-Milwaukee.
This article was updated after publication to include the university's response to Fox 6, to include links to new stories on Britz' interview and the chancellor declining one, which came after the story ran; the correct current title of Cortes, of Stojkovic at the time of the accusation against him, and spelling of Cashin's name, and the fact that the embedded chart the university provided shows five years of complaints and that terminations were the outcomes not provided before the story ran. Other details provided by university PR after the story ran and on the Stojkovic case were also added into the story as a result of Media Milwaukee's belief that providing the community with the fullest information possible is in its best interest.